Diamond Hearts Review
Diamond Hearts, by Everi, adds some sparkle to this three-reel slot with classic symbols.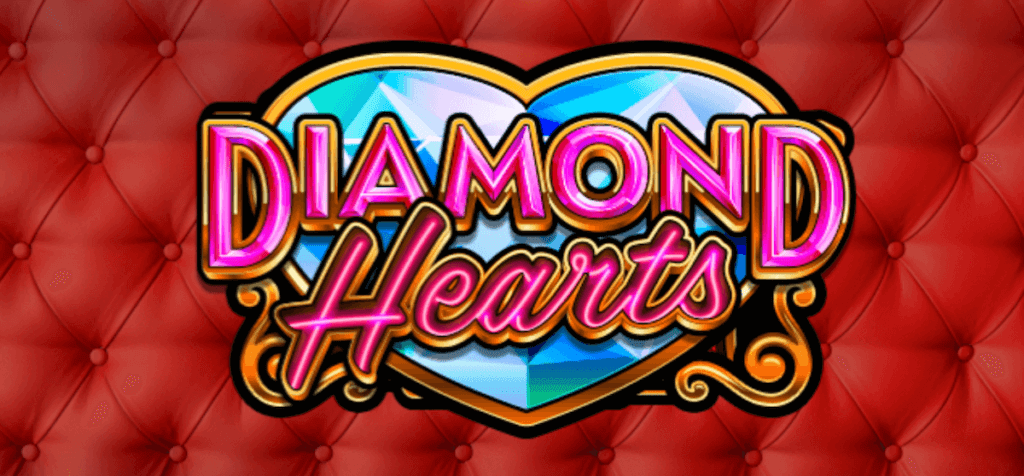 What You'll Uncover in This Diamond Hearts Ontario Review
We give all Ontario online slots the same treatment. Let's see if this Everi diamond will stand up to the pressure of our rigorous review. 
Minimum and maximum bet – we find out the lowest and highest wagers you can place.
Maximum win – knowing the top win gives you something to aim for and helps us compare to other slots.
Sound and graphics -for a slot to shine, it should have a catchy tune and brilliant graphics.
Symbols – we see which icons pay well and what needs to match on the reels.
Features – we look for any action on the reels from special features.
Special rounds – if there's an extra round, it adds more excitement to the game.
Volatility – low, medium or high, it tells us what we need to know about win frequency and size.
RTP – even though the payout rate is theoretical, it helps us evaluate and compare slots.
Diamond Hearts Symbols & Payouts
Who doesn't love some sparkle and shine on the reels? Let's see whether this slot has payouts to match.
The Symbols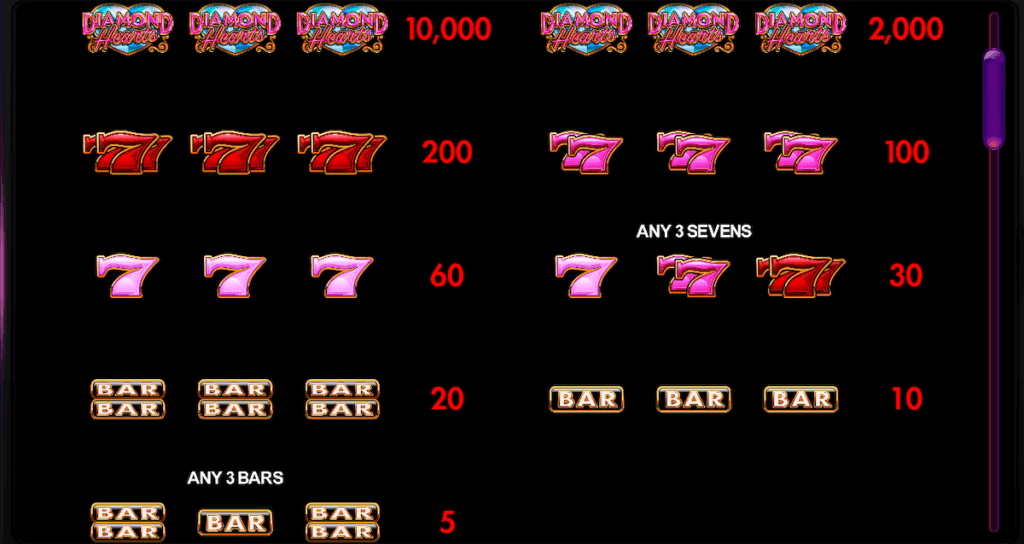 The top value symbol is the diamond heart. Other than that, the symbols are slot classics. You'll see the triple sevens, double sevens, single sevens, double bar and single bar. You can mix and match the sevens, and the bars.
Paylines
Diamond Hearts has nine paylines, running from left to right. Wins are added together, and only the highest one per line counts.
Min and Max Bet
The minimum bet is $2.25 at $0.25 per line, and the maximum amount you can wager is $450 with $10 per line with a bet multiplier of five. It's pretty high compared to other slots you'll find at an Ontario online casino.
Diamond Hearts RTP
The game has an RTP of 96%.
Volatility
This slot has medium volatility.
Maximum Win
The maximum win is 10,000x your line bet with a multiplier.
A Hidden Gem
We're not too impressed by the bet range. The maximum bet is ideal for high-rollers, but the lowest amount doesn't compare well to other online slots in Ontario. However, if you've got room in your bankroll, the maximum win might just make it all worth it.
Game Features
So far, this slot is a rough diamond. Let's see if some game features can polish it up nicely.
Wilds and Multipliers
True to the classic slot style, this game hasn't added too many features, letting the diamond shine instead.
Wilds
The diamond heart symbol acts as the wild. It also serves as the jackpot when you land three of them on the middle row.
Multipliers
The diamond heart does all the work here. If you combine one with a winning sevens or bar combination, a 2x multiplier applies. If you have two hearts in the combination, a 4x multiplier applies.
Diamond Hearts Graphics & Sound
Now's the chance for the slot to create a lovely and luxurious atmosphere.
| | |
| --- | --- |
| Graphics | 3D |
| Optimized for Mobile | 👍 |
| Music | None |
| Special features | None |
A Rough Diamond
Compared to other Ontario online slots, this game is quite simple in terms of music and graphics. There are some sound effects when the reels spin, but otherwise no music. The padded upholstery backdrop, gold frame and hearts showing the paylines are quite sweet.
Solutions to Issues With This Slot
Hearts sometimes break, although not usually diamond ones. Either way, there's a solution to fix any problems with Diamond Hearts.
When the slot freezes, refresh the screen, and you'll be able to replay the spin.
If the game freezes and you can't get it going again, it will automatically close and settle bets in 24 to 48 hours. If you didn't get your winnings or a refund, contact customer support.
These Diamonds Aren't Forever
Diamond Hearts adds some thrills with the jackpot for landing three hearts on the middle row and the wilds and multipliers. However, the rest of the game is quite simple, meaning it won't hold your attention for long.
If you're browsing an online casino in Ontario on Valentine's Day, looking to feel warm and fuzzy, it might still do the job. We score it 6/10.
Slots To Play If You Like Diamond Hearts
FAQs
How do I get the maximum win when playing Diamond Hearts?
The maximum win comes from landing three diamond heart symbols on payline one, which runs across the middle row.
How many reels and rows are there in Diamond Hearts?
There are three reels. The game looks like a classic slot machine; sometimes, a reel stops with three symbols showing and sometimes two, so the rows change.
Can I play Diamond Hearts on my mobile in Ontario?
Yes, you can enjoy many online slots in Ontario on your mobile and Diamond Hearts is one of them.
Can I play Diamond Hearts for real money?
Yes, you can find this slot at an online casino in Ontario and bet with real money.
What kind of slot is Diamond Hearts?
It's a classic slot with three reels and traditional symbols. The themes are love and luxury.
How do I increase my bet in this Diamond Hearts Ontario slot?
You can increase or decrease your bet from the menu or by clicking the plus symbol. Use the sliding scales to change your line bet and the bet multiplier.
Author
Casino Content Writer
Kayleigh is a casino content writer for the Canadian market. Before working on this market, Kayleigh was writing for the general US market and further specialised in the Pennsylvania market. Now, she brings her knowledge and experience to the Ontario market! She's been working as a writing professional for the last decade, and she's dedicated to bringing you practical tips, right at your fingertips.