Compare and find the casino that suits you
It's hard to choose just one online casino that suits your preferences. It would be nice if there was an online casino that offered everything you were looking for without having to waste all that time researching games and features. In just a few clicks, you can find a top-rated online casino using our Casino Comparison Tool.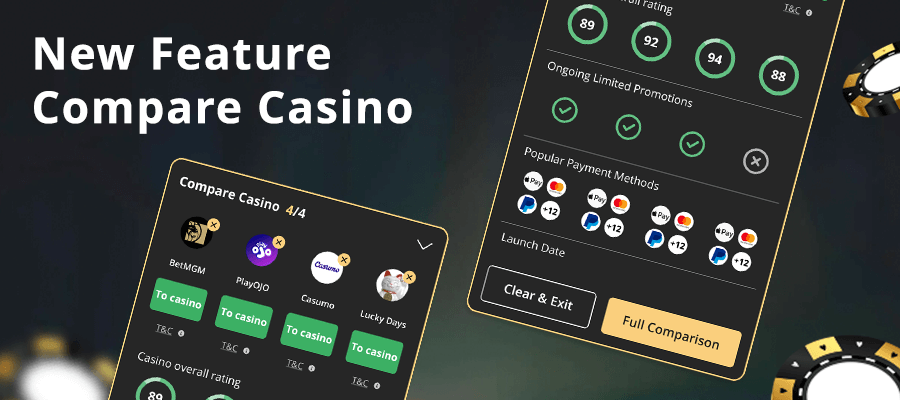 Filter, analyze and set top Ontario casinos side-by-side!
A variety of critical criteria are taken into account before presenting you with options in the Casino Comparison Tool. Why? We want to make sure you get the most accurate information possible! So let's take a closer look.
Casino Overall Rating – Here you can find out how popular, usable, customer service-friendly, and fair the casino is.
Launch Date – This is a measure of how long the online casino has been around.
Licence –You should make sure the online casino you select is licensed. A safe and licensed environment is essential for players.
Minimum deposit – This is the minimum amount you can deposit into your account in order to start playing.
Minimum withdrawal – You must withdraw this amount if you want to stary enjoying your winnings.
Casino payment options –You will have a better experience at the online casino if it offers more payment options. So, whatever is the best option at the time can be used.
Local Language – It's always nice to be able to communicate with customer support in the language of your choice.
Pros + Cons – By highlighting the pros and cons of an online casino, a conscious decision can be made.
How to use the casino comparison tool?
If you're wondering how to use this new tool, don't worry, we're here to help. The Casino Comparison Tool can be used in a few easy steps.
Click the 'Compare' button
You can compare the casino cards by clicking the compare button. You'll see the Casino Comparison Tool pop up! The casino comparison tool will let you pick up to four online casinos from our options! The tool will show up in the form of a bar at the bottom of your screen.
Search and add casinos
There's no hassle when it comes to adding an online casino. Press '+' to open the drop-down menu. From the menu, you can select popular casinos or search for an individual one.
Compare and analyze
The time has come to click Compare! By clicking this button, you are taken to a brief overview of your selected casinos side-by-side. On the bottom right of your screen, you'll find a tab called 'Full Comparison' that will take you to a more detailed comparison.
And on mobile?
With the Casino Comparison Tool, you can compare casinos using any mobile device! The experience you get using this tool on your phone is the same as using it on your computer. You're not compromising anything!
Ready to enhance your Online Casino experience?
The Casino Comparison Tool is a valuable resource for all Ontario players. Through our user-friendly interface and customizable experience, you'll find your online casino in no time.
Visit our in-depth casino reviews for detailed information on your favorite online casino. So don't wait another minute – get ready to play at a new online casino! Who knows, you might even find the online casino of your dreams.
Frequently Asked Questions
Yes, they are! Legal online casinos are licenced by the AGCO and regulated by the IGO.
The Casino Comparison Tool is a new tool that lets Ontario players compare up to four online casinos at a time.
Of course, it can! You can pick and choose which online casinos you'd like to compare and what informations shows up on your tool.
An ideal Ontario online casino will have a great game library, an awesome responsible gambling programme and more important casino features.