Apple Pay Casinos
iDebit Casinos
InstaDebit Casinos
Interac Casinos
Mastercard Casinos
MuchBetter Casinos
PayPal Casinos
Paysafecard Casinos
Payz Casinos 
Visa Casinos
How Secure are Your Payment Details When Playing at an Ontario Online Casino?


Let's start with the definition of a casino payment method. Basically, it's the method you use to make a deposit/withdrawal at an online casino. For example, Interac might be one of the most popular payment methods online in Ontario.
For a casino to operate in Ontario, it must meet stringent safety requirements and receive a license from the Alcohol and Gaming Commission of Ontario. So, you can be sure your personal details will remain secure.
In case you aren't sure how to tell if a casino is licensed in ON or not, just check out our reviews page for a head start. Every casino featured on our site is licensed by the AGCO and legally operating in the Ontario iGaming market.
Did you know?
The Alcohol and Gaming Commission of Ontario is responsible for regulating casinos, online gambling, and liquor sales in the province of Ontario. Other provinces also have their own regulating bodies.
Most Common Payment Methods in Ontario
Here, we'll go over some of the most common casino payment methods in Ontario. The table below summarises some key, typical, information regarding each payment option.
Payment Method
Name
Type
Average Deposit Time
Average Withdrawal Time
Provider's Transaction fees
Visa
Credit / Debit Card
10 Minutes
2 Days
2%
MasterCard
Credit / Debit Card
10 Minutes
3 Days
1.5%
PayPal
E-Wallet
Instant
Instant
2.9%
InstaDebit
Bank Transfer
Instant
1-3 Days
$1.95
Interac
E-transfer
Instant
Instant
$0.50 – $1.00
Trustly
Bank Transfer
Instant
1-3 Days
No fee
iDebit
Bank Transfer
Instant
1-3 Days
$1.50
MuchBetter
Bank Transfer
Instant
1-3 Days
2%
The different types of payment methods
Casino payment methods fall into several categories, which we'll explain more next. Although there are numerous options available under each category, we'll stick to the main ones that are likely to be accepted at Ontario casinos. Check out our payment methods list below.
Debit & Credit cards
Debit and credit cards are the most basic and widely used payment methods anywhere.
Visa – Visa largely needs no introduction, as almost everyone has a Visa card. Visa will be accepted at pretty much any online casino.
MasterCard – Mastercard is very similar to Visa and works in essentially the same way.

E-wallets
E-wallets are a popular and secure payment method. The main advantage is that you can make deposits without sharing your personal banking details.
PayPal – PayPal is the most well-known and used e-wallet across the world. Acceptance at casinos used to be low in the past, but is now growing.
Mobile apps
Mobile apps represent payment methods you can use from your phone. Many providers have apps that you can download for convenience, and some are entirely mobile-based.
PayPal Mobile App – The PayPal mobile app is a version of PayPal that you can use on your phone. You can both send and receive money from your phone.
Bank transfers
Bank transfers provide a direct and convenient method of casino payment. However, processing times can be a little longer than some other options.
Interac – Interac is likely the most used bank payment method in Ontario. In most cases, you can log into your bank account online and pay from there.
Trustly – Trustly is based in Sweden and allows players to deposit at casinos directly from their bank accounts.
InstaDebit – InstaDebit is another bank payment method available across Canada. Like the others, you can send and receive money directly from your bank account.
iDebit – iDebit lets you connect your checking account to where you are paying, allowing for quick and direct deposits.
MuchBetter – MuchBetter is a payment app, that allows for deposits and withdrawals to your bank account. It's widely accepted at many casinos not only in Ontario but abroad.

Prepaid cards and vouchers
This category includes prepaid cards, coupons, and vouchers. If you're hesitant to provide your card or banking information online, these can be a good option for you. However, prepaid cards can only be used for deposits.
Did you know?
E-wallets have a good balance of security and convenience. However, there can be fees, and some people might see it as a hassle to set up an additional account. Source.
Solutions to Common Issues
In most cases, using online casino payment methods is a smooth and stress-free experience. However, sometimes, you might run into a little snag. Below are a few common issues that could happen, along with what to do about them.
I can't find where to verify my payment methods
Payment-related pages are found under your account/profile page. From the top of the screen, you should see your username or a person icon. Click on that, then click on deposits/payments from the new menu.
I can't change the payment method on my account
When you go to make a deposit, you should be able to select another payment method from the available list. It's possible you've made your current method the default one. If you continue to have issues, we recommend contacting customer support.
I can't remove my credit card from my account
In some cases, casinos may not allow you to remove your only payment option, especially if you still have a balance owing. Generally, there should be an option to remove or delete a payment method.
In-game deposits from my mobile are not working
It may still take some time for new deposits to be updated. If the issue persists, it could be a problem with your chosen payment method.
I requested a withdrawal to my card. Why are the funds still available in my casino balance?
Currently, many banks in Ontario don't accept money from online gambling sites. We recommend using an alternative withdrawal method.
My latest deposit hasn't been added to my account
While most deposits are "instant," it may take a few minutes for everything to be properly updated and reflected in the casino balance. If more than 10 minutes have passed, double-check your card/payment details and verify everything has been entered correctly.
I am unable to withdraw my winnings
Usually, not fulfilling the wagering requirements at the casino is the main reason for not being able to withdraw. There's also the possibility you're looking to withdraw more than the maximum amount or haven't entered all the withdrawal details correctly.
I can't cancel my withdrawal
After a certain period of time, it may not be possible to cancel a withdrawal anymore. For this issue, the best course of action is to contact customer support right away and see what can be done.
I didn't receive my winnings in full
Most casinos have a maximum they will pay out in a single transaction. If you happened to win big, you might receive your winnings in several installments.
Did you know?
Typically every casino will have some level of wagering requirements. The main reasons are to stop people from simply withdrawing funds and to fight money laundering
Top 10 Extra Tips to Help you Decide on a Payment Method
With countless payment options at every Ontario casino, you might have a tough time deciding on what to use. Here are some tips to consider when choosing a casino payment method.
Consider if transaction speed is important to you.
Check if your method may have certain deposit limits or higher minimum deposit requirements.
You'll most likely have to deposit and withdraw with the same method, so keep that in mind.
Check any possible fees, including not only from the provider but the bank itself (if the payment is through your bank).
Keep in mind that using bank payments in Ontario for online gambling is severely restricted. The following banks don't accept funds from casinos: Royal Bank of Canada, CIBC, TD Canada Trust, Bank of Nova Scotia, Connexus, Santander, and Tangerine Bank.
Consider using a payment method that has been created specifically for online play.
Check that proper security is enabled at the casino (you should see the lock in the address bar).
How to Place a Deposit and Withdraw Your Winnings
For our final section, let's go over the steps to make a deposit or withdrawal at an online casino. Generally, the process will be roughly the same regardless of which Ontario casino you sign up at.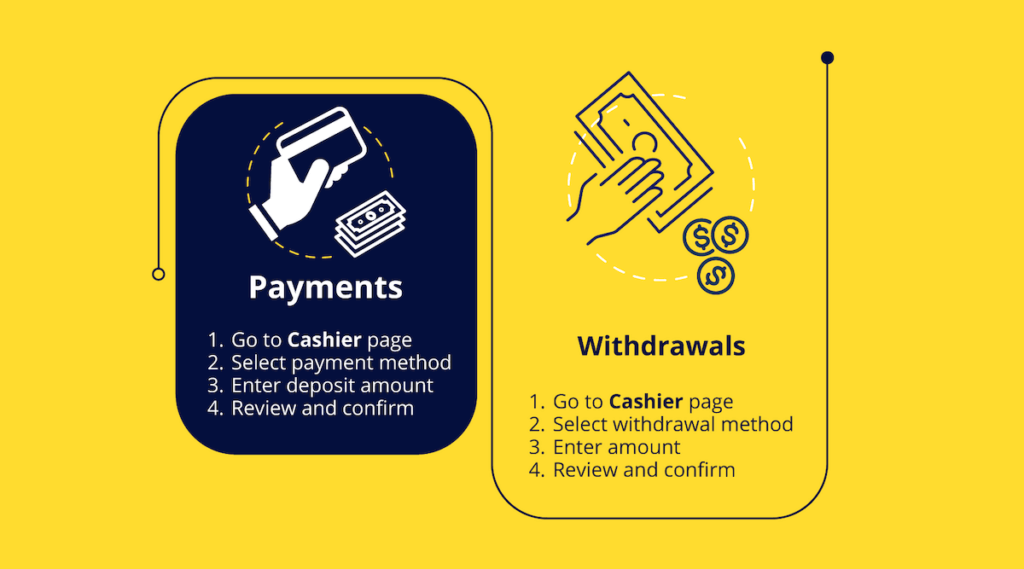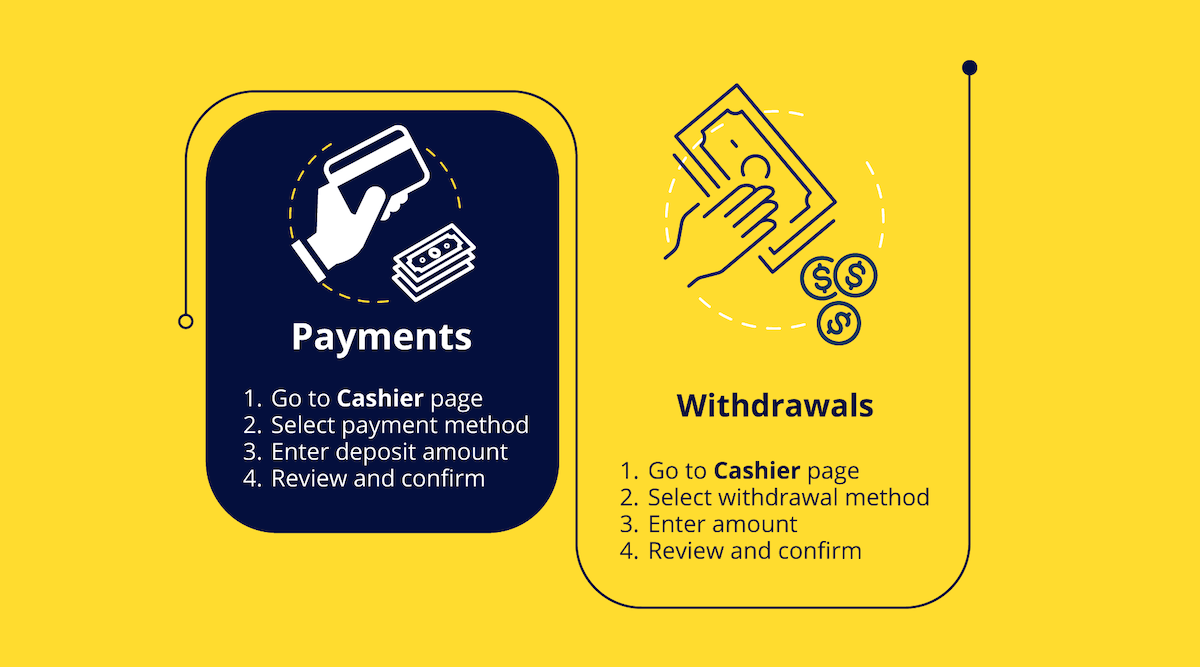 How to place a deposit
First, log into your casino account.
At the top of the screen, you should be able to see either your username, account or an icon that resembles a person. Click on that.
You'll now be on your account/profile page. Among the menu options, you should see 'deposit'.
After clicking on deposit, there'll be a list of different payment methods the casino accepts. Choose a payment method you prefer.
Enter the requested details into the required field. For example, if you choose Visa, you'll need to enter your card information.
Once your payment method is set up, enter the amount you wish to deposit and click confirm/done to complete the process.
How to withdraw the winnings
Go into your account page as before.
This time, select the withdrawal option instead of the deposit.
Choose an available withdrawal method.
Enter the amount you wish to withdraw and click on the confirm/done button.
While Canadians don't generally have to pay taxes on casino winnings, the government might consider it taxable income if you're a professional gambler.
Conclusion
This guide offers you a detailed run-down of what payment methods exist in the Ontario market. After you've read through this, you can access our different specific payment method pages to find out which one is the best for you.
Remember that different payment methods may be useful to you in different ways. Some may be better suited for withdrawals, others for deposits and more.
Keep this page bookmarked to remain updated on online casino payment methods.
Frequently Asked Questions
To remove a payment method, you should be able to click on the delete/remove option on your payments page.
Yes, any online casino licensed in Ontario is trustworthy and must meet certain security standards.
E-wallets generally continue to be popular payment methods at online casinos.
Author
Casino Site Manager
Taylor is the Casino Site Manager for OntarioCasinos and oversees the functionality and performance of the site. She has worked in the iGaming industry for 5+ years as a writer and manager, specializing in the North American markets. When she isn't working, you can find her at the park with her 4-legged best friend, Nala.