In this guide, our team will help you understand what progressive jackpot slots are, which ones to play and some important information you can use to better your online gaming experience. Interested in learning more? Read on!
Top 9 Progressive Jackpot Slot Games in Ontario
Since there are a ton of slots available in the Ontario market, and sometimes, progressive jackpot slot games aren't as clearly labelled, we're here to show you the top 10 progressive jackpot slot games you can play in Ontario.
1. Divine Fortune by NetEnt – 60,000 Jackpot
This Greek mythology-themed slot is one of NetEnt's classic slots. You can play Divine Fortune across 5 reels, 3 rows and 20 paylines, and you can also take advantage of the slot's awesome game features which are wilds, re-spins, and more. Divine Fortune has a high level of volatility and a high RTP of 96.59%. This jackpot slot is specifically known for its wilds features, specifically Falling Wilds Re-spins and Wild on Wild feature.
| | | | |
| --- | --- | --- | --- |
| RTP | 96.59% | Min Bet | $0.2 |
| Volatility | High | Max Bet | $100 |
| Max payout | N/A | Biggest Jackpot win | 60,000 |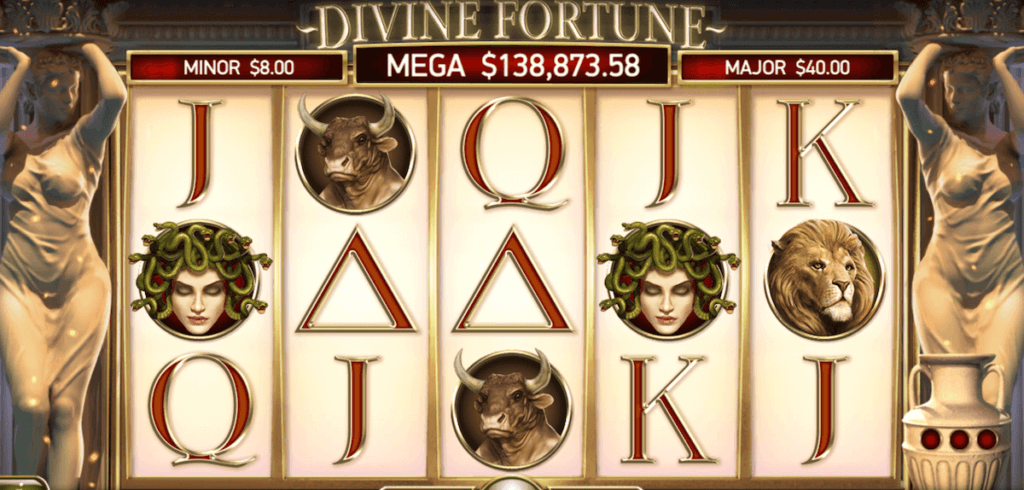 2. Mercy of the Gods by NetEnt – 46,000 Jackpot
Mercy of the Gods is another mythology-based progressive jackpot slot by NetEnt. It follows the format of 5 reels, 3 rows and 20 paylines. If you complete all three rows with bonus symbols, this will end up triggering the progressive jackpot! Features of the game include free spins with stacked wilds and re-spins with nudging wilds. The volatility of Mercy of the Gods is stands as high, meaning that the risks may be higher, but the rewards will be higher as well.
| | | | |
| --- | --- | --- | --- |
| RTP | 96.64% | Min Bet | $0.2 |
| Volatility | High | Max Bet | $100 |
| Max payout | x1600 | Biggest Jackpot win | 46,000 |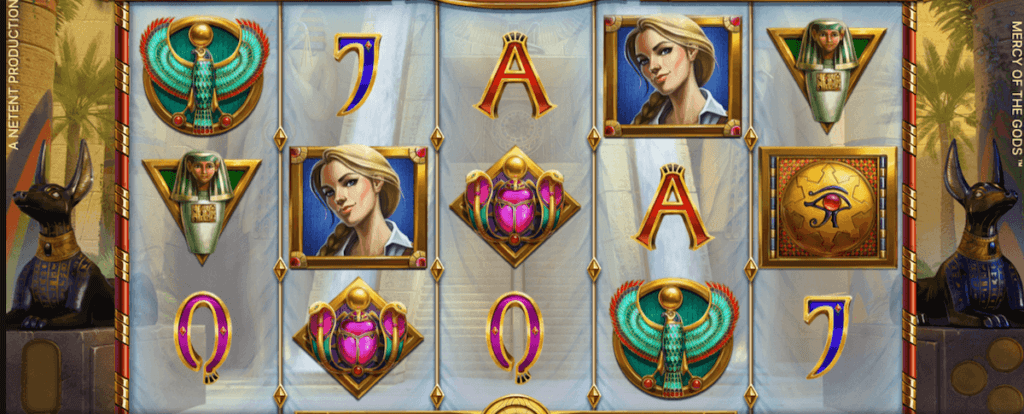 3. Imperial Riches by NetEnt – 15,000 Jackpot
While the graphics of Imperial Riches is one of the best out there, this slot is also known for using NetEnt's Avalanche engine which allows for more winning combinations. Although the volatility is low, the RTP ranks at 96.88% which is pretty decent for the Ontario market. The biggest jackpot win so far is 15,000! This jackpot slot has a free spins bonus game round. The whole game has 5 jackpots, 3 of which are progressive.
| | | | |
| --- | --- | --- | --- |
| RTP | 96.88% | Min Bet | $0.15 |
| Volatility | Low | Max Bet | $30 |
| Max payout | x30,000 | Biggest Jackpot win | 15,000 |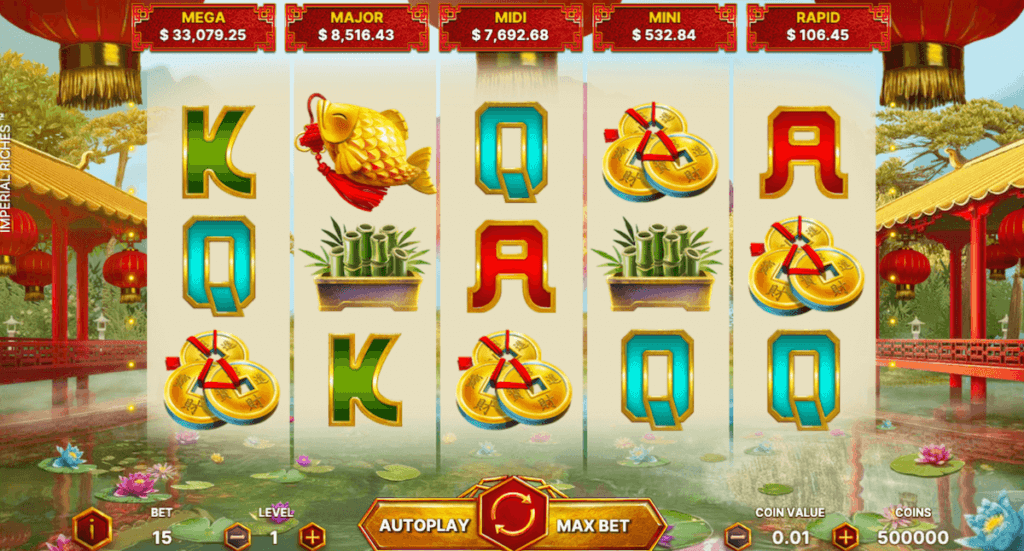 4. Mega Moolah by Microgaming – 13,212,882 Jackpot
Mega Moolah was designed and developed by Microgaming, and it is considered to be the first progressive jackpot slot to have ever hit the market. It's also known for being one of the progressive jackpot slots that pay out the most. In fact, it holds the Guinness world record for the highest win. Other than the fact that this is the biggest progressive jackpot slot in the market, it has other great features including a free spins bonus game.
| | | | |
| --- | --- | --- | --- |
| RTP | 88.12% | Min Bet | $0.25 |
| Volatility | Medium | Max Bet | $6.25 |
| Max payout | x11250.00 | Biggest Jackpot win | 13,212,882 |
5. Jackpot Raiders by Yggdrasil – 15,000 Jackpot
Jackpot Raiders is an adventure-based slot that follows a 5×3 format and has 20 paylines. The slot has 2 bonus games and several game features that contribute to the gameplay. What's great about this game? Well, you have 2 free spins game features, 2 bonus games, and 5 progressive jackpots. Awesome right? The RTP of this slot is considered to be high and the volatility low, meaning there's less risk when playing and higher rewards!
| | | | |
| --- | --- | --- | --- |
| RTP | 96.30% | Min Bet | $0.1 |
| Volatility | Low | Max Bet | $40 |
| Max payout | x4110 | Biggest Jackpot win | 15,000 |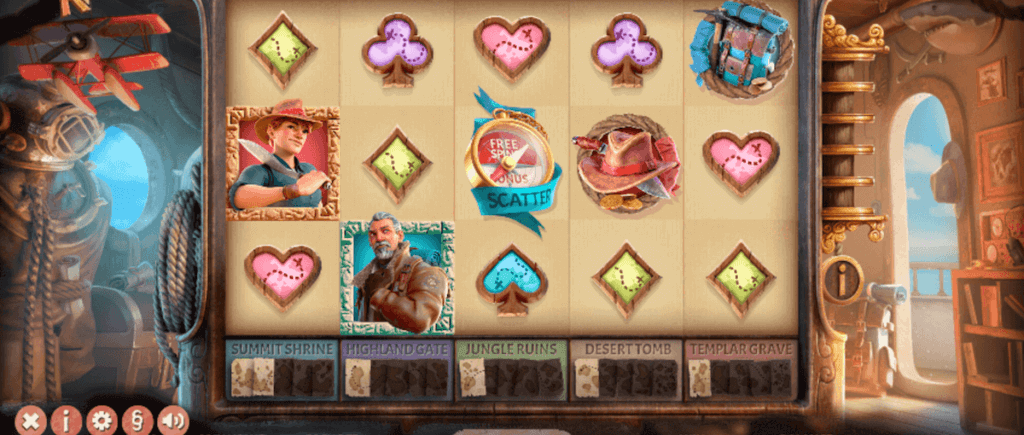 6. Temple Tumble 2 by Relax Gaming – 10,000,000 Jackpot
Temple Tumble 2 is the first progressive jackpot by Relax Gaming. It follows a 6×6 format and has several jackpots that may lead up to a 10M jackpot. The RTP of this online slot is 94.8% which is almost good enough to be considered as a high level. In fact, this is an average RTP, but fear not because the game features, make up for it. Players can play using tumble wins and free spins modifiers to increase their chances of winning.
| | | | |
| --- | --- | --- | --- |
| RTP | 94.8% | Min Bet | $0.2 |
| Volatility | High | Max Bet | $100 |
| Max payout | x10,045 | Biggest Jackpot win | 10,000,000 |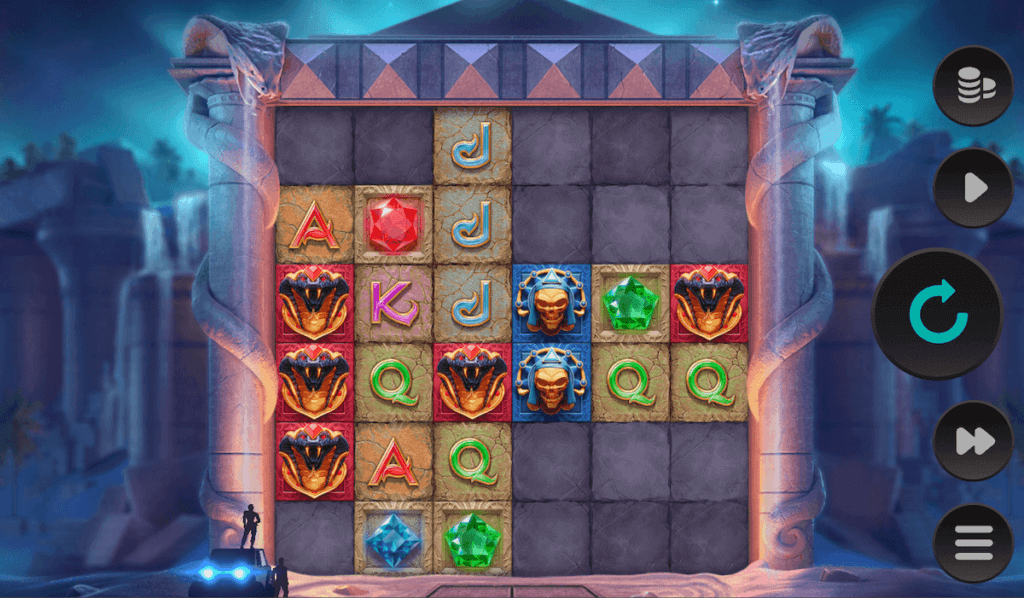 7. Queen of Alexandria WowPot by Neon Valley Studios – 2,000,000 Jackpot
Queen of Alexandria WowPot is a slot with a relatively low RTP, but the game features make up for this. The expanding sticky wild respins are able to grant you up to 3 respins in a row. It follows a 5×3 format and has 4 different progressive jackpots that can be triggered across the gameplay. The volatility of this slot is ranked as medium, meaning that it is appropriate for many types of players.
| | | | |
| --- | --- | --- | --- |
| RTP | 92.5% | Min Bet | $0.1 |
| Volatility | Medium | Max Bet | $200 |
| Max payout | x2500 | Biggest Jackpot win | 2,000,000 |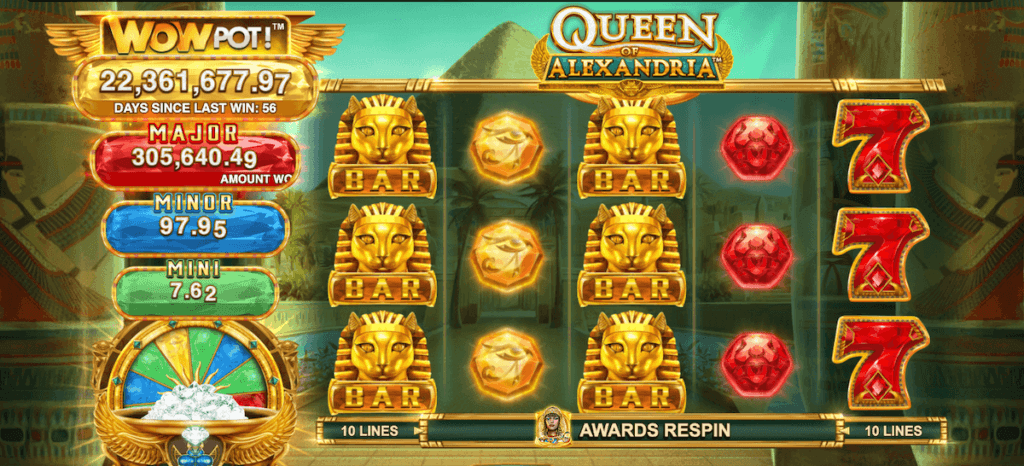 8. Immortal Romance Mega Moolah by Microgaming – 1,000,000 Jackpot
Immortal Romance Mega Moolah follows the exact format of the original slot, Immortal Romance. The only difference, of course, is the mega jackpot of up to 1M! Although Immortal Romance Mega Moolah has a low RTP, an awesome part of this slot is definitely the random wild reels feature and the 4 character bonus rounds. These features are what make this slot so exciting. Who wouldn't want try out this slot that mashes two popular slots into one?!
| | | | |
| --- | --- | --- | --- |
| RTP | 93.4% | Min Bet | $0.20 |
| Volatility | High | Max Bet | $6 |
| Max payout | x12,000 | Biggest Jackpot win | 1,000,000 |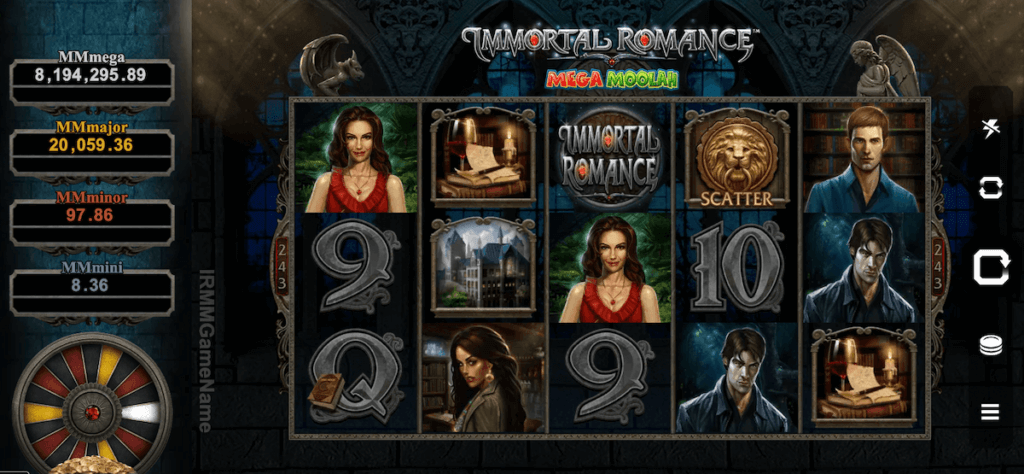 9. Clover Lady by Wazdan – 50,000 Jackpot
​​Clover Lady was designed and developed by Wazdan, and it has a volatility level that can be adjusted from low all the way to high. This can be adjusted according to your skill. This slot also has a Hold and Win feature that may increase your chances of winning. It doesn't stop there, though. You can also utilize the Bonus Buy feature to further better your experience. Players can use the Dire Wolf Multiplier and Gamble Round feature during the base game. Lastly, this progressive jackpot slot has a minimum bet of $0.1 and a maximum bet of $100.
| | | | |
| --- | --- | --- | --- |
| RTP | 96.21% | Min Bet | $0.1 |
| Volatility | Adjusted | Max Bet | $100 |
| Max payout | x3500 | Biggest Jackpot win | 50,000 |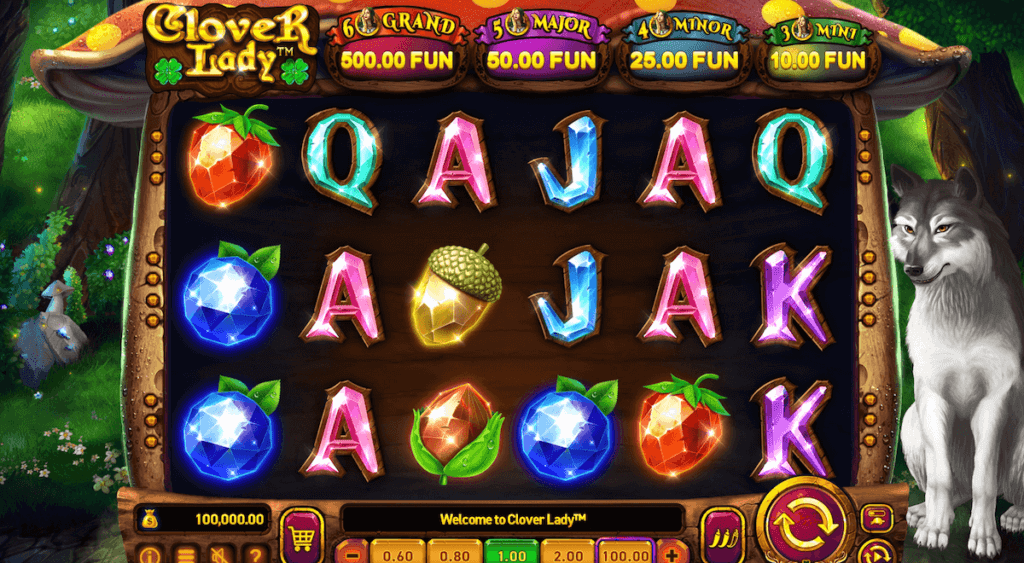 What are Progressive Slots?
A progressive jackpot isn't only a type of slot, but it's technically a game feature that a slot has. This means that not every slot out there has this special feature, but when you do find it, be sure to try it out.
Just like many other online casino games, players can find different types of progressive jackpot slots available at their favourite online casinos.
Standalone Progressive Jackpot
Standalone progressive jackpot slots are related and tied to just one game. What does this mean? Other progressive jackpot slots may be part of a game series and so, those slots are all tied together for players to benefit from a larger jackpot. Standalone progressive slots have just one game for players to win from.
Wide Area Progressive Jackpot
A wide area progressive jackpot is the opposite of the standalone progressive jackpot slots. You can have a jackpot that spreads across several games that fall under the same game series.
Online Progressive Slots
Online progressive slots are online slots, but with a difference. Players can win huge jackpots! Usually, they have around 4 types of jackpots ready for players to trigger: Mini, Minor, Major, Mega.
How does an Online Progressive Slot work?
An online progressive slot have jackpots that increase every time someone makes a bet until someone ends up winning the pot. Once that happens, the jackpot starts over and starts accumulating again.
This depends on how small or how large the jackpot is. The jackpot can be reset very quickly or even after a couple of games.
Are they safe?
Online progressive slots are regulated and legalized by the Alcohol and Gaming Commission of Ontario (AGCO) and iGaming Ontario (IGO). This ensures the safety of players and the fairness of each and every game available online.
Players can also utilize responsible gambling tools that can be found at every online casino in Ontario to further ensure a safe online gaming experience. These tools can be accessed through the responsible gambling pages that are available on the homepages of all legal online casinos.
Latest Online Progressive Slots
We've already shared the best online progressive slots on the market, and now it's time to share the latest ones! Check out the following list:
Gold Factory Jackpots Mega Moolah by Aurum
Stunning Cash By BF Games
Wolf Gold Power Jackpot by Pragmatic Play
5 Tips for playing Progressive slot machines
1. Choose a jackpot slot where players aren't expected to stake ridiculous amounts of money
Whether you're a new player or an experienced player, ideally you'd choose a slot where you don't have to bet too much money to play. This is because it may take a long time for you to even trigger the jackpots. Bet a small amount of money to limit yourself and keep playing safely.
2. Try progressive jackpot slots with a high RTP value
Most progressive jackpot slots actually have a low RTP value, and they're increased by the value of the jackpot. Try to keep an eye out for the high RTP slots to help you get a better return from your winnings.
3. Always pay attention to value
You may see a progressive jackpot slot and think, "Oh, the reward is going to be huge!"… hold up, because this may not always be the case. Make sure you read our reviews and check the information on the information section of the slot you're playing.
4. Try slots where the rewards are regular
Find out the hit frequency of the slot you're playing to figure out how regular the rewards are given out. This will provide you with an easier online gaming experience.
5. Never bet more than what you are comfortable with
Remember to stay within your lane. Never bet more than you have. Always bet within the budget you've set aside for yourself. This is where you can utilize the responsible gambling tools available to you.
Top Providers of Progressive Jackpot Slots
For us to tell you about the best progressive jackpot slots available in the market, we also have to tell you about the providers that design and develop them.
1. NetEnt
NetEnt is one of the leading providers in the world when it comes to online slots. They are responsible for a large portion of the online slots available in Ontario, especially the progressive jackpot slots.
2. Microgaming
Microgaming are actually one of the first online providers to have introduced game features like cascading reels and transferring wilds. They also developed the Mega Moolah slot, which has the record for the highest win in progressive jackpot slots.
3. Yggdrasil
Yggdrasil is also known for their large jackpots in their progressive jackpot slots. They put specific focus on their sharp 3D graphics across all of their games to better the gaming experience for all players.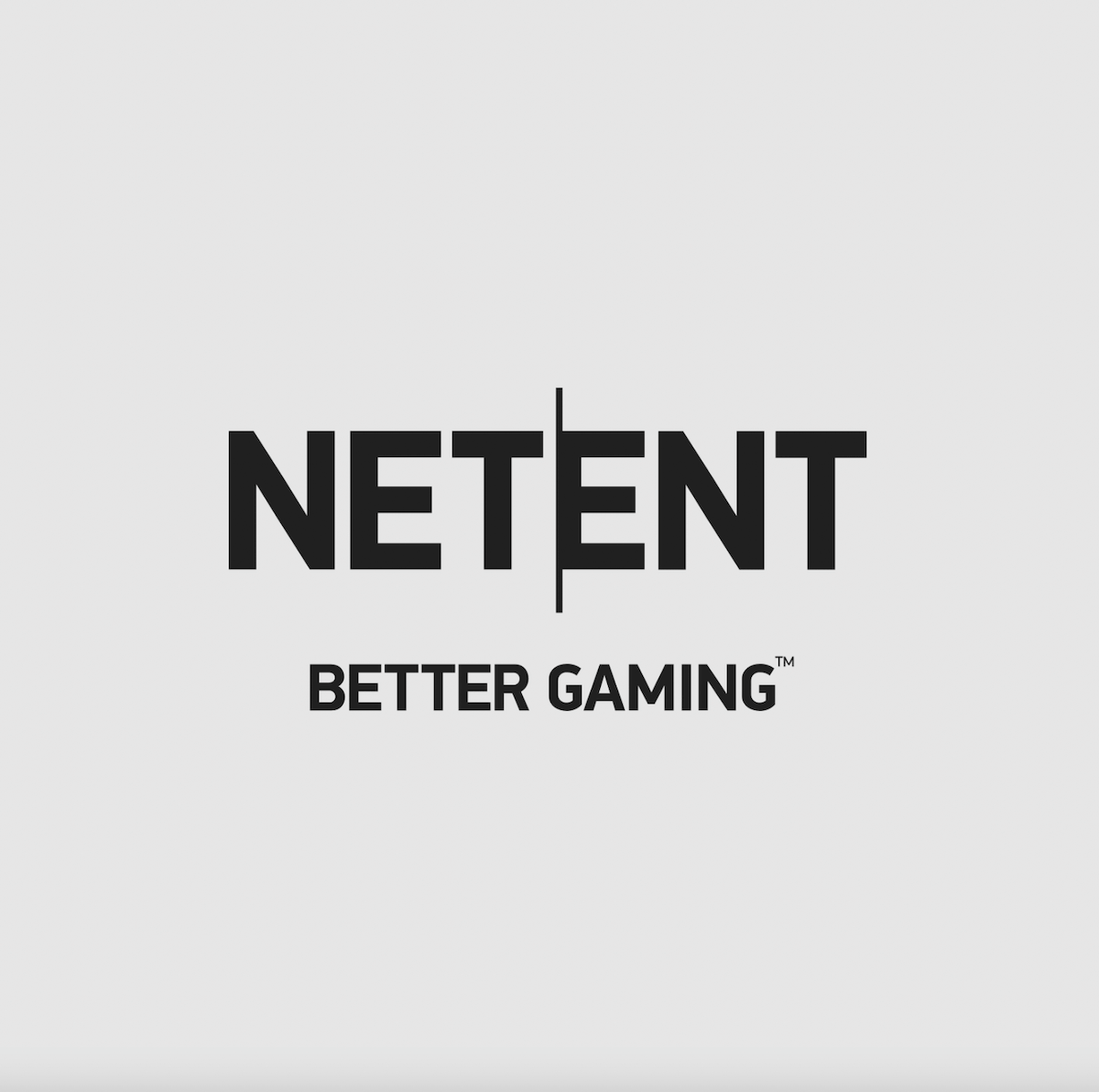 The Biggest wins ever on Online Progressive Slots
The market in Ontario is still fairly new, so we don't have any big wins to report so far. We'll update this section as soon as there are any wins!
Where to play the best progressive slots
If you're wondering where you can play the best progressive jackpot slots, here's a list of the online casinos you could try out.
BetRivers
Now that you know about Progressive Jackpot Slots…
You'll find enough information on this page about progressive jackpot slots to get you interested in finding out more about them. Check out our individual slot reviews to get more familiar with each of the slots and their game features.
Remember to always check the jackpots alongside the RTP because sometimes, jackpots may raise the RTP and once you take those away, you may end up with a very low RTP. Keep those tips we've mentioned in mind and enjoy playing!
Frequently Asked Questions
Yes, they are regulated and legalized by the AGCO and the IGO.
Players can get huge jackpot rewards when playing them.
Yes, we have standalone progressive jackpot slots, wide area progressive jackpot slots and online progressive slots.
Depending on which Ontario online casino you're playing at, you can play using demo mode.
A lot of things can trigger a progressive jackpot, mainly game features. These can be free spins, wilds, scatters and more.
Once a progressive jackpot is paid out, it starts again from the beginning, collecting the maximum amount until a certain amount of spins are made. Usually, it can be anywhere from every 50 million to 600 million slots.
Author
Casino Content Writer
Kayleigh is a casino content writer for the Canadian market. Before working on this market, Kayleigh was writing for the general US market and further specialised in the Pennsylvania market. Now, she brings her knowledge and experience to the Ontario market! She's been working as a writing professional for the last decade, and she's dedicated to bringing you practical tips, right at your fingertips.