If you're looking for the perfect land-based Ontario casino that suits your gaming needs, you're in the right place.
The Biggest Land-based casinos in Ontario
You can find numerous options for land-based casinos in Ontario, but our team is here to tell you which ones you need to be heading towards.
1. Elements Casino Mohawk – Campbellville, Ontario
Starting with one of the top land-based casinos in Ontario, Elements Casino Mohawk is home to over 1500 slots from top providers like IGT, Scientific Games, and more! Whatever table games you're into, you're probably going to find it here.
Location: Campbellville, Ontario
Built: 1999
Size: 140,000 sq ft
Slot machines: 1500+
Table games: 60+
If you love table games, chances are you're going to love BetMGM. This Ontario online casino is known for its extensive table games library including poker, blackjack, baccarat, and roulette.
2. Caesars Windsor – Riverside Dr E, Windsor, Ontario
Located on a beautiful waterfront, Caesars Windsor is a great place to spend some time at. This reputable casino is owned by OLG, otherwise known as Ontario Lottery and Gaming Corporation, and it is the first land-based casino in Ontario. It opened its doors in 1994!
Location: Windsor, Ontario
Built: 1994
Size: 100,000 sq ft
Slot machines: Around 3000
Table games: 95
3. Casino Niagara – Niagara Falls, Ontario
Another land-based casino with picturesque views, is Casino Niagara which is located smack dab in the middle of the famous Niagara Falls. This casino is particularly known for its sizeable poker room, which includes around 26 games. Casino Niagara was the second land-based casino in Ontario to open up to the public.
Location: Niagara Falls, Ontario
Built: 1996
Size: 95,000 sq ft
Slot machines: 1300+
Table games: 40
If you're a fan of the game of poker, we suggest you look at PokerStars in Ontario! Read about their top-notch poker room in our online casino review.
4. Casino Rama Resort – Orillia, Ontario
Perhaps considered to be one of the biggest land-based casinos in Ontario, Casino Rama Resort is definitely one you need to consider. This land-based casino is a joint venture between the Ontario Lottery and Gaming Corporation and the Chippewas of the Rama First Nation. In its extensive game library, players can find progressive jackpot slots, classic slots, poker, blackjack, and more.
Location: Orillia, Ontario
Built: 1996
Size: 192,000 sq ft
Slot machines: 2200+
Table games: 110
One of the biggest online casinos in Ontario, would be BetRivers! Their game library is filled with the latest slots and table games.
5. Starlight Casino Point Edward – Point Edward, Ontario
Starlight Casino was formerly known as Point Edward Charity Casino and in 2017, Gateway Casinos & Entertainment Limited took over. Starlight Casino is now operated by the casino brand. This land-based casino is definitely smaller compared to the other casinos we've mentioned on this list, but still worth your time.
Location: Point Edward, Ontario
Built: 2017
Size: 47,000 sq ft
Slot machines: 400
Table games: 11
Another online casino that's worth your time, is Casumo Casino. This Ontario online casino has over 1600 games and very quick withdrawal options.
Did you know?
Before you start playing at any land-based casino, make sure you are playing at a licensed and regulated casino. Casino licences are issued by the Alcohol and Gaming Commission of Ontario (AGCO).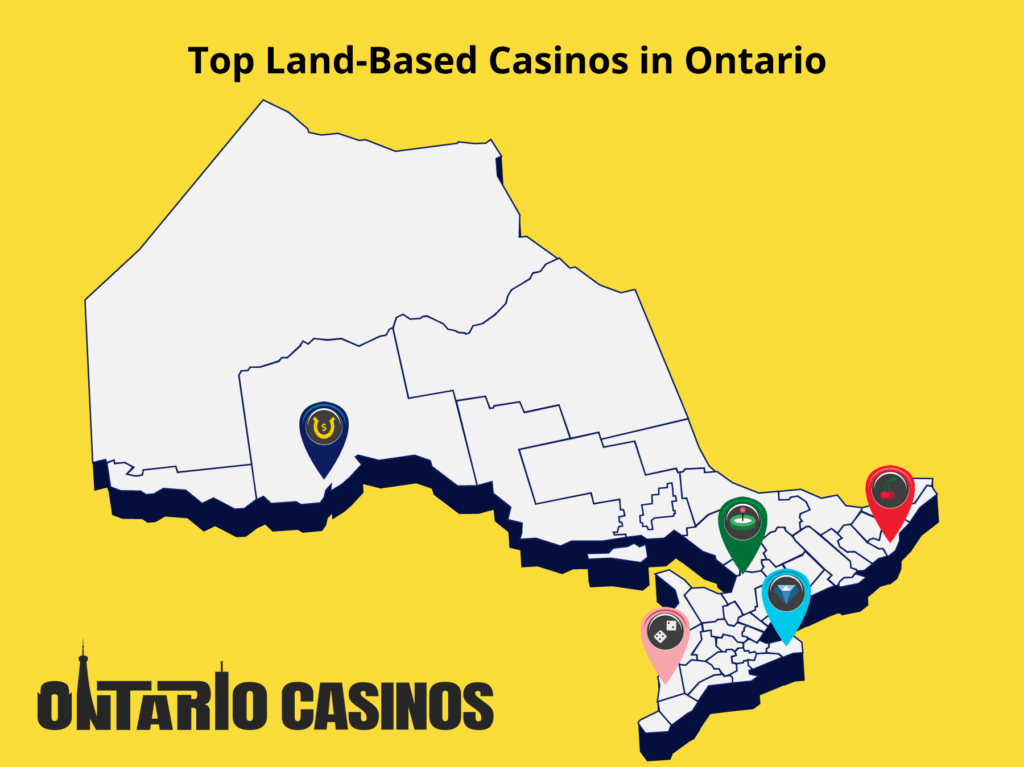 Land-based casinos vs. Online casinos
Both are casinos but that's where the similarities end. Land-based casinos and online casinos are very different, and that's why some players prefer one over the other.
Online slots and slot machines
First things first. The biggest difference between online slots and land-based slot machines is that land-based slot machines are older than online slots. Online casinos will have slots with innovative features that come out almost every month from top providers.
Slot machines tend to be staples in an establishment and aren't changed frequently. Slot machines also have lower RTPs compared to online slots which tend to have higher RTPs.
Table games
In a land-based casino, you're going to find a lot more table games readily available. You will also be experiencing an exciting environment that makes playing table games a lot better.
Playing table games at a land-based casino means that you can interact with the croupiers or dealers. While you can do this by playing an online live casino game, the real-life experience at a land-based casino can be described by some players as unmatched.
Here are a few more differences between the two that you need to consider!
| Land-based Casinos | Online Casinos |
| --- | --- |
| Super exciting and engaging experience | Play anywhere |
| Social interactions | Play anytime |
| Casino resorts can be an exciting day out or trip | Enormous game libraries |
| More traditional | Several payment options |
| | Innovative game features |
Although land-based do have a lot of perks and they provide a fun experience, online casinos seem to be better all around. You don't have to worry about spending your time and money commuting to the casino, you have more games releases on the regular, and it's simply more convenient.
Requirements for land-based casinos to operate legally
For a land-based casino to operate legally in Ontario, it must acquire a gaming license from the Alcohol and Gaming Commission of Ontario (AGCO). The land-based casino also needs to be regulated by the AGCO and managed by Ontario Lottery and Gaming Corporation (OLG).
Requirements for online casinos to operate legally

The process for online casinos is similar to the land-based one. An online casino needs to be issued an iGaming licence from the AGCO as well, but it's managed by iGaming Ontario (IGO), a subsidiary of the AGCO).
Learn more about Ontario licences by clicking this button!
Remember!
If a casino, land-based or online, is operating without a licence from the AGCO, run the other way. Play responsibly and in a safe environment!
History of casinos in Ontario
Land-based casinos first started in Ontario back in 1994 when Caesars Windsor opened to the public. Now, the AGCO has officially licenced "25 slots and casino locations" (AGCO, 2023).
The iGaming market has become legal and regulated since April 4th, 2022. So it's still considered to be a fairly new market.
The situation of land-based casinos in Ontario now
Land-based casinos in Ontario are still available to players who want to go, but after the pandemic that hit in recent years, many of them suffered losses and a few were temporarily closed.
That situation drove players of all legal ages to play at online casinos, not just the younger generations. Players started to see how secure and engaging online casinos can be and the options are limitless.
Online casinos are opening up regularly and are going through legal requirements to be able to operate in the Ontario market.
If online casinos weren't already convenient enough, they also have mobile casino versions which you can access through your preferred online casino's app or internet browser.

The all-encompassing experience
Land-based casinos have been around for a while, and for good reason! Going to one gives you the full, exciting feeling of being at a casino. At the end of the day, that's why people keep going to land-based casinos, for the glamorous and fast-paced experience.
This guide offers you the top land-based casinos in Ontario, and it also compares the experience of a land-based casino to that of an online casino. While online casinos are a lot more convenient and modern, land-based casinos definitely have a charm to them that players just cannot resist.
Frequently Asked Questions
Th province of Ontario currently has over 70 land-based casinos, most located in the Toronto area.
Casino Windsor is the oldest casino in Ontario, opening its doors back in May, 1994.
Players will ned to create and verify an account with an online casino that holds a license by the AGCO to gamble online. Th market was regulated back in April, 2022.
The largest casino in Ontario is currently the Great Canadian Casino Resort Toronto, a resort consisting of over 400 hotel rooms and an entrainment venue that holds up to 5,000 people.
Land-based casinos and retail venues that players can only access by going in person. Online casinos allow players to game from the comfort of their own home, and/or anywhere within the province lines. Online casinos typically offer a much larger variety of games, while land-based casinos offer more entertainment sectors, like dining and hotel services.
Author
Casino Content Writer
Kayleigh is a casino content writer for the Canadian market. Before working on this market, Kayleigh was writing for the general US market and further specialised in the Pennsylvania market. Now, she brings her knowledge and experience to the Ontario market! She's been working as a writing professional for the last decade, and she's dedicated to bringing you practical tips, right at your fingertips.