Best 10 Live Dealer Poker casinos
This is the first place to start. There's no shortage of trustworthy, dependable live casinos in Ontario, but we're here to help you whittle down your options. These live casinos are listed in no particular order, so any of them would be great for live dealer poker!
What makes a live dealer casino the best
You may be asking yourself, but how do they know which live dealer casinos actually make the cut? Well, we go through two basic points to make sure all of the live casinos mentioned in the list, are actually the best.
Different variants available
With such a popular live casino game, you'd expect to find a couple of variants available. Live Poker has a few variants available, and you need to make sure they're available at your preferred live casino.
When you have different variants to choose from, you can select which game suits your RTP needs best. Different variants may have different percentages of RTP attached to them, so that means you may want to choose accordingly. 
Learn more about Live Poker by heading to our Youtube channel and checking out our Poker School videos:
Overall good payouts ratio
Read this twice: the payout ratio is key. This is what will determine the possible outcome of your game. We all know that the more you get, the better it is for you, right? If an online casino has a great payout ratio that favours the player, it's likely that if you win, you'll get more back.
We recommend looking at our Best Payouts Casino page to find out which Ontario online casinos payout the best. Here, we'll list the top casinos, and we also go through what makes these casinos the best payouts casinos in the market.
You can also head over to our partner app, Slot Tracker to get data about your preferred online casinos.
What is a Live dealer poker game?
Imagine a traditional or RNG poker game. Now take it to a live studio setting and add communication with other players and real-time gameplay to the mix.
Differences between Live dealer Poker and Online poker
The first noticeable difference between live dealer poker and online poker (RNG poker) is that live poker has an authentic casino look and feel to it. The experience makes you feel like you're actually in an exciting environment in the comfort of your own home.
Speaking of exciting environments, when playing live poker, you can communicate with other players making it more stimulating than your usual RNG game where you're playing against a computer.
The equipment used during a live dealer poker game is top-of-the-line. What does this mean? Using the best equipment means that the games will be fair and engaging.
During a live poker game, the dealer will be leading the game and all you have to do is sit back, and enjoy the game. In an online poker game, you must constantly be aware that you're playing against an RNG system.
How to play live dealer poker?
Playing live poker is easy if you know the facts of the game. In this section, we'll be going through the basic ins and outs of the game.
Live Dealer poker strategies
Remember that most live poker variants you'll find at online casinos will be Texas Hold'em, meaning you must get the best 5-card hand. Of course, you'll still come across other variants like 7-Card stud & Omaha Hi. Don't worry; you have options!

Unlike other live casino games like live blackjack or live roulette, live poker has way too many variables to consider to have a specific strategy to follow. The best thing for you to do is this. Practice as much as you can, and remember to bet small wagers while doing this since there is no demo mode in live poker. If you would like to play for free, try using demo mode in online poker games to get some additional practice.
Basic rules summary
Whichever live poker variant you end up choosing, you need to know which hands are the winning hands. Using standard poker hand rankings, players must figure out how to deliver the best 5-card hands.
So the goal of the game is to get the best poker hand. Here are the best poker hands you can possibly get, in order from left to right.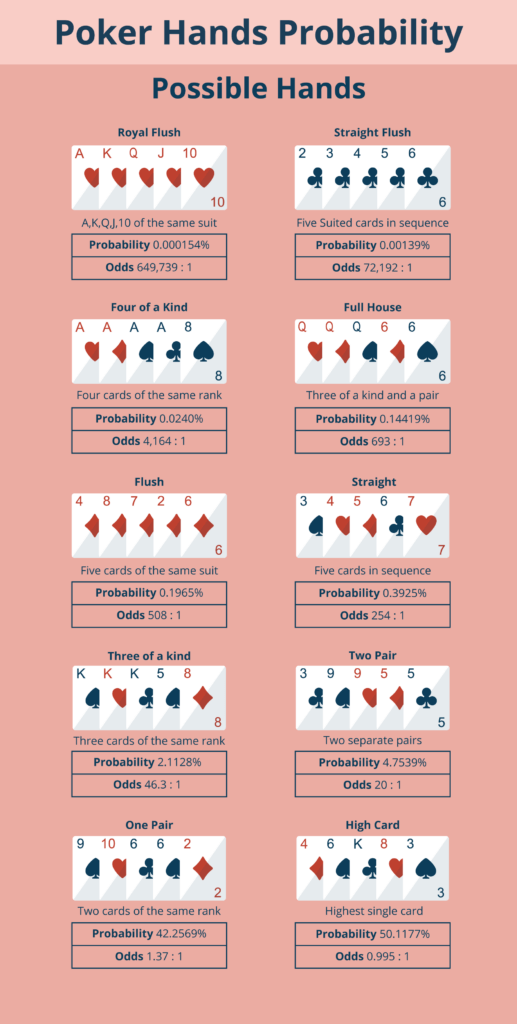 Advanced live poker tips – beat the dealer
Since there are no specific strategies you can follow to win at live poker, we thought we could offer you a couple of tips to use when playing the game.
Refrain from limping
A limper is a player is someone who calls instead of raising when they join the pot. Other players will notice how often you limp and will use that against you to win.
BE B-E AGGRESSIVE!
An aggressive way of playing would be to raise or bet whenever the opportunity arises. This would be the opposite of limping. By doing this, you're increasing your chances of winning even with lower hands.
Don't let the game win you
Make sure you are aware of your budget. Manage your bankroll by setting limits for yourself, both personal and literal limits. Set responsible gambling limits from your online casino account to stay safe and secure.
Top live poker providers in Ontario
We gave you what you need to know to start playing live poker in Ontario, but now we'd like to share the ones responsible for your favourite live poker games. Here's a list of the top game providers that develop live poker in Ontario!
Ezugi

Are you ready to take control of the game?
Whether you're new to live poker or you need a refresher, you'll find what you need right here. This guide covers the basics and was designed to help you enter the live poker world. From where to play to top tips, you'll find it here.
Bookmark this live poker guide to access it quickly whenever you need it! Enjoy the game.
Author
Casino Content Writer
Kayleigh is a casino content writer for the Canadian market. Before working on this market, Kayleigh was writing for the general US market and further specialised in the Pennsylvania market. Now, she brings her knowledge and experience to the Ontario market! She's been working as a writing professional for the last decade, and she's dedicated to bringing you practical tips, right at your fingertips.