Our Payz Casinos review will answer all your questions about how it works in Ontario and the various features, so don't miss out. Let's dive in.
Payz Ontario Review – Safety First!
Payz is an e-wallet payment method, making it highly secure and favoured by Ontario players. It was launched in 2013 and is now well-established.
Payz is owned by PSI-Pay Ltd and regulated by the UK Financial Conduct Authority. PSI-Pay Ltd is also a member of Mastercard International Incorporated, so we can safely say Payz is 100% legitimate.
When you use Payz at a casino, you must go through a KYC process. This includes providing some of your personal details and verifying your identity. This is a standard process for online casinos, and you can be assured every Ontario casino we feature here is licensed in this province and safe.
Did you know?
Although Payz was founded in 2013, its origins go back to 2000 in the form of ecoCard. This makes it a long-established e-wallet.
How to Use Payz at Ontario Online Casinos
To use Payz, you'd first need to register for an account. Afterwards, simply log in to the casino and find Payz among Ontario's accepted methods. You can follow the remaining on-screen instructions; depositing with this method isn't unlike most others.
Fees when depositing and withdrawing at the Payz Casino
Ontario online casinos usually don't charge any fees themselves when depositing or withdrawing. However, when using Payz, there can be a fee from 0% to 10% depending on whether you are funding from your bank account, Visa or some other method.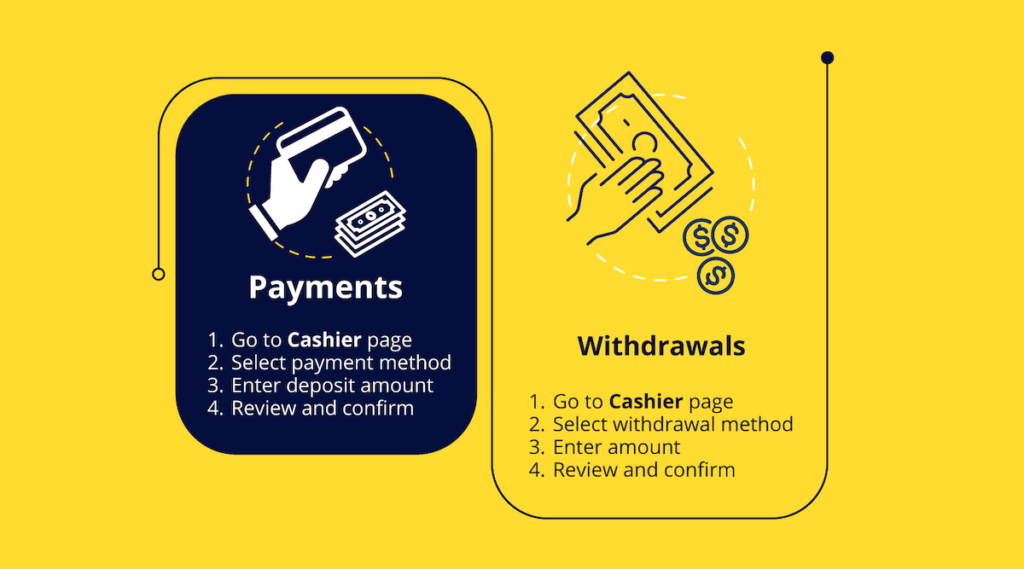 How to deposit and withdraw with Payz in Ontario
For depositing, you can follow these steps.
Once you're logged in, click the quick deposit button at the top or head to your account page and select deposits.
Choose Payz from the list.
Enter the amount you wish to deposit and click the deposit/confirm button at the bottom.
When withdrawing, you can follow the same step as above, but instead, click on the withdrawal tab.
Did you know?
Payz comes with a five-tier VIP program. Your current level can affect how much you pay in fees.
Solutions to Common Issues With Payz at Ontario Online Casinos
When using Payz (or any method) at Ontario casinos, it's possible you could run into some problems. Before you contact customer support, our solutions below may offer some explanations.
1. I can't make a withdrawal with Payz
Before you can withdraw at an Ontario casino, you first have to deposit with that same method. If you've already done this, then it's also possible you haven't fulfilled the wagering requirements at the casino yet.
2. I accidentally deposited too much; what can I do?
You may be able to receive a refund from the casino by contacting customer support. However, this is solely at the discretion of the casino.
3. I can't deposit with Payz at the Ontario casino
It's possible that Payz isn't accepted at this particular casino. However, it's still a widely accepted payment method across Ontario.
Did you know?
Requiring players to deposit and withdraw with the same method is a security feature. It aids the casino in fighting money laundering.
Pros and Cons of using Payz at Ontario Online Casinos
There are several key benefits to using Payz for Ontario players. Let's have a look at those with the table, and then we'll compare more to other options next.
| PROS | CONS |
| --- | --- |
| Safe and secure payment method | Not accepted at every casino |
| Fast deposits and withdrawals | In some cases, fees can be higher than other methods |
| You don't have to share banking details with the casino | |
Payz vs. other payment methods

Compared to most of the other popular payment methods in Ontario, Payz comes with a few advantages. The first is that you can both deposit and withdraw your funds quickly.
For example, with a bank transfer or Interac, it takes longer to receive a withdrawal. Payz is also extremely secure, and you can keep your banking information safe.
| Features | Payz | Visa | Interac | MuchBetter |
| --- | --- | --- | --- | --- |
| Fast deposits and withdrawals | ✔ | ✖ | ✔ | ✖ |
| Secure and regulated | ✔ | ✔ | ✔ | ✔ |
| Can be linked with other payment methods | ✔ | ✔ | ✖ | ✖ |
Did you know?
Ontario players are increasingly favouring e-wallets for casino banking. This is largely due to the stronger security that they offer.
Payz Represents an Excellent Payment Option for Ontario Casinos
With our Payz casinos review, we've covered all the major features of how to use this payment method in Ontario. If you're not already signed up with Payz, the added security, reliability, convenience, and speed may be enough reasons to consider it.
Payz also compares very favourably to other methods that are popular among Ontario players.
To remain updated on Payz, keep an eye out for this space!
Frequently Asked Questions
Payz is known as an e-wallet payment method, which is highly favoured in Ontario. However, it's worth noting that it's rebranded to, simply, Payz.
Payz was founded in 2013 and is based in the UK.
Yes, Payz is 100% safe to use for Ontario players and is regulated by the UK Financial Conduct Authority.
Fees can be anywhere from 0% to 10% and it depends on your current tier and what you're using for funds.
Yes, Payz has some of the fastest deposits and withdrawals.
Yes, generally, anyone in Ontario can use Payz, but first, you need to register for an account.
Author
Casino Content Writer
Kayleigh is a casino content writer for the Canadian market. Before working on this market, Kayleigh was writing for the general US market and further specialised in the Pennsylvania market. Now, she brings her knowledge and experience to the Ontario market! She's been working as a writing professional for the last decade, and she's dedicated to bringing you practical tips, right at your fingertips.