Best Mobile Casino sites for Players in Ontario
The best thing about playing at a mobile casino is that you are free to play on your phone whenever you want. Enjoy your favourite slots online and live dealer games with the same quality and entertainment value on your mobile device, while also being able to make quick payments without any issue.
This is our guide to the best mobile casinos in Ontario!
Why play in a mobile casino?
If you're a new player, or you're simply used to playing online games on your computer, you may be wondering if mobile casinos make sense for you. We're here to tell you that they do, and here's why!
| | Safety | Play Anytime | Play Anywhere | Extra innovation |
| --- | --- | --- | --- | --- |
| Mobile Casino | ✔ | ✔ | ✔ | ✔ |
| Desktop Casino | ✔ | ✔ | ✖ | ✖ |
Playing in mobile casinos safe as playing on desktop
There are no shortcuts when it comes to safety when playing at online casinos in Ontario. Whether that's desktop or mobile.
Regulations and Legislations apply for mobile casinos as well
Every regulation and legislation that is set out by the AGCO and IGO in Ontario, apply to the mobile casinos as well. Just because players don't access mobile casinos like they usually do, doesn't mean that they aren't as protected with the same standards.
Legality and Licences when it comes to mobile casino
As mentioned previously, mobile casinos are legalized and regulated by the Alcohol and Gaming Commission of Ontario (AGCO) and iGaming Ontario (IGO), a subsidiary of the AGCO. These licenses ensure that players can have access to a safe online gaming experience in Ontario.
How does safety of funds and fair play work in mobile casinos?
When creating an account with a mobile casino, you follow the same process as you would a normal online casino. You hit the register button and follow the instructions. By giving your personal information, you are helping the mobile casino secure your account and therefore, your funds are protected.
To ensure fair play, mobile casinos also make sure of the RNG system to guarantee complete fairness and transparency. They are also third party agencies like eCOGRA to further verify that these mobile casinos are following the rules and regulations.
Is personal data protected in mobile casinos?
Yes, your personal data is protected when playing at mobile casinos. Each mobile casino uses different methods and systems of personal data protection, but you can easily find this out in the Help Centre or the Terms and Conditions of the mobile casino.
You can play Anytime & Anywhere with special features
The best thing about playing at a mobile casino is that you can play wherever you are from your mobile phone at whatever time you want. You don't have to worry about being at home to play if that's what you want to do.
Usually, you can find extra innovative features like shake-to-play, swipe-to-play and you can also view live streams directly from the mobile casinos. Players can remain updated by enabling the push notifications feature. This is very useful if you plan on using mobile casinos very regularly.
Other pros of going mobile!
It's easier to sign up for an account because everything is more straightforward since you're on a smaller screen. This also applies to the validation of your account.
Another pro of going to a mobile casino is that you have so many payment methods available. This will vary depending on the mobile casino you end up using.
Did you know?
When playing on your phone, due to all the innovative features available, you can also view game statistics at some online casino. You will also have access to any new games thanks to push notifications.
Which games can you play on mobile and where to find them?
Now that we've talked about what mobile casinos are and why you should try them out, it's time for you to learn what type of games you can play at mobile casinos.
Slots
Of course, you're going to find slots. In fact, you're going to find the top, most popular and latest slots in the market. All you have to do is access your account, sign in and look through the game library of the mobile casino.
Once you find the online slot you want to play, you can just hit play and start the game. Try out a few of these slots to get the full experience!

Live Dealer Games
To play a live dealer or live casino game, you need to log in, choose your desired game and enter the game to get to the live studio. Keep in mind that the chat option of the live casino game maybe restricted due to the small screen, but you can still use it.
You can play roulette, blackjack, game shows, and poker on live casino. All of these types of games have different variants of them, giving you even more options to try out!
Head over to PlayOJO, BetMGM, bet365, LeoVegas & JackpotCity to play live dealer games in Ontario.
Did you know?
Live Casino games are immersive and are constantly evolving. This is so the players can have a better online gaming experience. If you want to learn more about live casino games, find out more about the game providers who make them!
3 Tips on how to play mobile casino games
Before playing your favourite mobile casino games, consider the following tips to help you out so that you can maximize your time.
1. Read our game reviews to help you choose wisely
Our game reviews have all the necessary information you need to know about a casino game. You'll be able to find how to play, what game features the game has, important information like RTP and Volatility and much more. If a particular game interests you, bookmark it, so it'll be easily accessible.
2. Check your bankroll frequently
When playing, it's easy to get caught up in the excitement of the game. This is why we have to tell you to pace yourself and always check your bankroll. Playing responsibly is one of the best things you can do for yourself. Find out more about how you can do this by reading our Responsible Gambling page.
3. How much time and attention the game requires
Some games require more time and attention than others, so try playing your preferred game in demo version first, if it's available. If not, try it out in your spare time. Feel the game out and see what is required from your end. You can also find this information out from the game's review.
Did you know?
Every online casino and mobile casino has a responsible gambling page. Make you read through these pages to learn about the responsible gaming tools you can utilize to have a safer experience.
Mobile casino apps vs Mobile casino sites
Now, you may be asking, what's the difference here? You're right, there aren't any huge differences, but there are still some that you need to keep in mind.
Compare and decide what works best for you.
| | Mobile casino Apps | Mobile casino websites |
| --- | --- | --- |
| Optimised for mobile | 100% optimised for mobile | Some games won't be optimised for your browser |
| Instant play | Download the app first | Play right away |
| Wide selection of games | Certain games aren't available on the app | Game selection is larger on browser |
| Added Security | Additional security with Face ID or Touch ID on your phone | Passwords are the only form of security (still very safe) |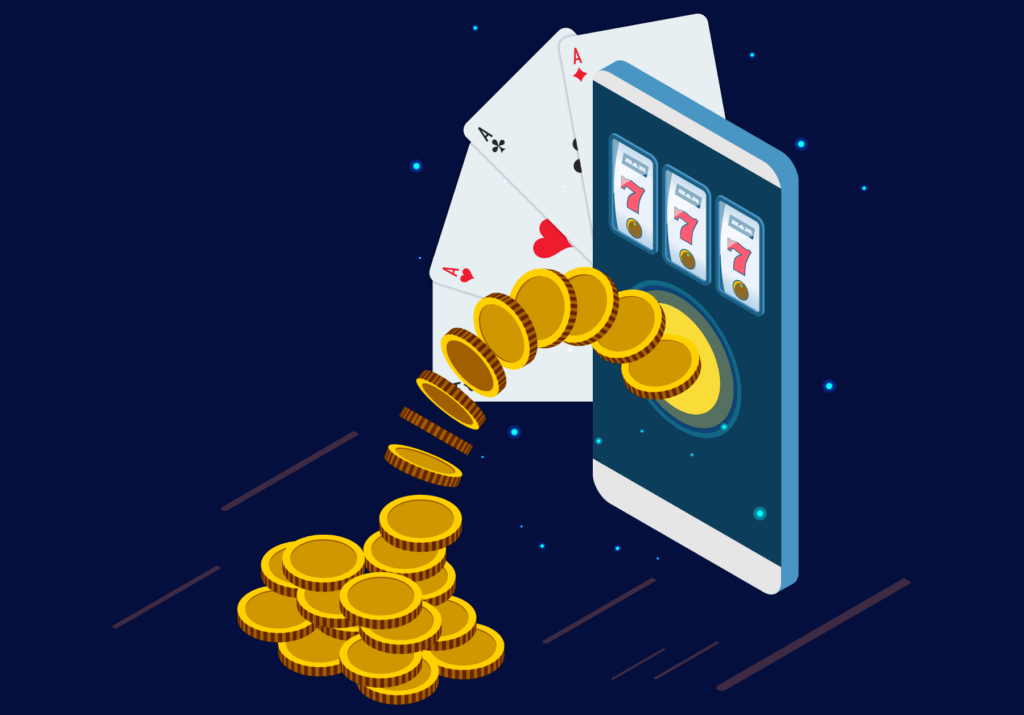 The best casino apps for Android
If you're playing on Android, check out the following mobile casinos: JackpotCity, Ruby Fortune, and WSOP.
The best casino apps for iOS
If you're playing on iOS, head over to BetMGM, PlayOJO, bet365 and LeoVegas.
Did you know?
Try out several apps before landing on your favourite. Go through the app and play on it for a while to see what you like and don't like about it.
Apps Here, Apps Everywhere
Nowadays, it's very difficult to find an online casino without a mobile casino version. A mobile version of the casino, be it an app or a browser, catapults the online casino's popularity, and for good reason… they are so convenient!
We've given you a list of the best mobile casinos, and other important information about them, and now it's up to you. Bookmark this page to remain updated on the latest about mobile casinos in Ontario.
Frequently Asked Questions
Yes, they are legalized and regulated by the AGCO and the IGO.
You can either find mobile casinos at the iOS app store or the Android store. You can also access them through your preferred mobile browser.
Whenever a license is given out by the AGCO to an online casino, they will most probably have a mobile casino that goes along with them.
Author
Casino Content Writer
Kayleigh is a casino content writer for the Canadian market. Before working on this market, Kayleigh was writing for the general US market and further specialised in the Pennsylvania market. Now, she brings her knowledge and experience to the Ontario market! She's been working as a writing professional for the last decade, and she's dedicated to bringing you practical tips, right at your fingertips.