Read our Apple Pay casinos review to learn more about this payment method! Everything you need to know is right here.
Apple Pay Review – Your Safety is First
Apple Pay was introduced in 2014 and can now be linked to well over 60 banks across Canada, including many in Ontario. This payment provider uses built-in security features to protect your information. It doesn't store your transaction information or original credit card numbers, ensuring your transactions remain private.
Casinos also keep your information safe using SSL encryption and other security features. Some even offer two-factor authentication to help prevent unauthorized logins. Casinos also ensure you complete the KYC process per GDPR policies.
Apple Pay can be found at Ontario online casinos that are licenced by the Alcohol and Gaming Commission of Ontario (AGCO) and regulated by iGaming Ontario (IGO).

Did You Know?
This payment method has over 500 million users worldwide, and around 47% of Canadians use it in-store. These statistics further show its popularity and why Ontario online casinos accept it.
How to Use Apple Pay at Casinos?
You can use this payment method on Apple devices at online casinos. When depositing or withdrawing, simply choose the Apple Pay option, and you'll then head to this payment processor's section to add your account details. The last step is adding the amount to deposit or withdraw and approving the transactions.
Deposit and Withdrawal Fees at an Apple Pay Casino
The best thing about this payment method is that it charges no fees. While other service providers, like your bank or cards linked with this account, might charge a fee, Apple doesn't.
Learn How to Deposit and Withdraw Using Apple Pay
In our Apple Pay casinos review, we provide a step-by-step guide on depositing and withdrawing, if available.
Access your Ontario casino login, and navigate to the cashier.
Click the deposit/withdraw tab to see the available methods.
Select this payment method's wallet.
Choose your preferred deposit/withdrawal amount.
Decide which card in your wallet to use.
Confirm the transaction, and approve it on your mobile app.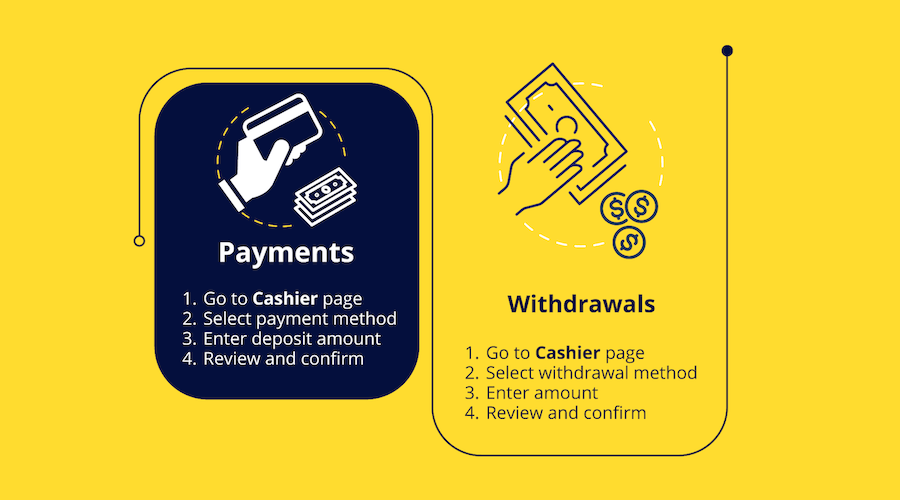 Did You Know?
You must set up an e-wallet if you use this payment method. Luckily, the wallet is a built-in feature on your device, and you can add your card to it for ease of use.
Common Issues with Apple Pay and Their Solutions
We identified a few disadvantages during our Apple Pay casinos review, such as needing to own an Apple device. However, we give some solutions to common issues below.
1. I can't find this method listed at the casino.
While this brand has become more popular with Ontario online casinos, not all provide this payment method. Look at which casinos we recommend that use it, and you'll never have to worry about being unable to use this payment method.
2. My deposit/withdrawal isn't going through.
One of the drawbacks of iOS is that after some updates, the app might act up, or you experience some trouble using it. Turn off your device and back on to properly integrate the update, which should help for casino deposits/withdrawals.
Did You Know?
This provider might sometimes have issues after an update, but it also means you gain access to new features. These features include Merchant Tokens, multiple cards in your wallet, and more.
Apple Pay Pros and Cons
There are always advantages and disadvantages to using a payment method. We list some of the pros and cons of using this method at an online casino.
| PROS | CONS |
| --- | --- |
| No fees apply | Only Apple clients can use this method |
| Built-in security features | It isn't widely accepted compared to other payment methods |
| The app is present on all iOS devices | |
| User-friendly interface and integration | |
Apple Pay vs Other Payment Methods
We found some differences when comparing this method with other ones. This method isn't always accepted as a withdrawal method, even if it's available for deposits.
However, while most other payment methods have some form of fee attached, this one doesn't. It's also highly secure and provides Touch ID, whereas other payment methods offer standard security.
| Features | Apple Pay | Visa | PayPal | Interac |
| --- | --- | --- | --- | --- |
| No Fees | ✔ | ✖ | ✔ | ✖ |
| Built-in Security Features | ✔ | ✔ | ✔ | ✔ |
| Can store multiple cards | ✔ | ✖ | ✔ | ✔ |
| Merchant Tokens | ✔ | ✖ | ✖ | ✖ |
| Provides Touch ID security | ✔ | ✖ | ✔ | ✖ |
Did You Know?
Globally, over 5,400 banks support this payment method. As such, it means you can quickly transfer money to and from your wallet when making deposits or withdrawals at Ontario casinos.
Enjoy a User-Friendly Interface and More
We found this payment method to be highly convenient, and it uses various robust security measures that offer you peace of mind when using it. You can pay with multiple cards loaded into your wallet, and the payment processor doesn't charge any fees.
However, this method isn't always available for withdrawals, and our Apple Pay casinos review found that Apple Pay sites aren't as common as, for example, Visa casinos.
We'd say that Apply Pay, although not as common, is a reliable payment method when you're playing at an online casino that offers Apple Pay!
Frequently Asked Questions
You can use any Apple device, so an iPhone, iPad, Apple laptop or desktop, etc., is accepted for this method.
Yes, we found this payment method user-friendly, and it provides free transactions, making it practical compared to Visa and other fee-heavy methods.
These casinos offer free transactions with increased security, like Touch ID, which also gives you a convenient way to deposit using multiple cards.
No, not all casinos offer this method, as it's not as widely accepted as Interac or Visa, but we recommend the ones providing this payment system.
This method won't charge any fees, but the casino might, and if you're using a Visa card in your wallet, that financial payment processor might charge transfer fees.
Yes, Ontario allows licensed casinos to use this method, and there are no restrictions on gambling transactions from Apple's side.
Author
Casino Content Writer
Kayleigh is a casino content writer for the Canadian market. Before working on this market, Kayleigh was writing for the general US market and further specialised in the Pennsylvania market. Now, she brings her knowledge and experience to the Ontario market! She's been working as a writing professional for the last decade, and she's dedicated to bringing you practical tips, right at your fingertips.