Paysafecard Casino Review – Online Secure Payments
Paysafecard was established in 2000 and quickly became a favourite option among online casino players. It prides itself on offering safe and secure transactions without the need to enter your bank or credit card details, so sensitive information is never shared. You only need a 16-digit PIN code accepted at various online retailers, including online casinos in Ontario.
Additionally, Paysafecard casinos provide further safety using SSL encryption to protect your data, are GDPR compliant, and offer extra security, like two-factor authentication and a KYC (Know Your Customer) check you must complete before you can withdraw your funds.
Rest assured that we only recommend licensed and secure platforms on our site that we rate as trustworthy and reliable.
Did You Know?
Paysafecard became so popular that Skrill purchased it, and Neteller later bought it. Nowadays, all three payment methods run under the umbrella company Optimal Payments Group, which prides itself on excellent security.
How You Can Use Paysafecard Vouchers at Online Casinos
Use your paysafecard at any paysafecard casino without sharing your bank or card details. Just enter the 16-digit code and stay on top of the next tips.
Deposit and Withdrawals Fees at a Paysafecard Casino
We explored some of the best Ontario casinos, such as High Flyer and PlayOJO, and discovered they don't charge a fee for deposits or withdrawals. Some, however, might charge a fee after exceeding the number of free withdrawals.
On the other hand, paysafecard charges a monthly service fee of $2.50 and a fee for transactions with currency conversions.
How to Deposit and Withdraw with Paysafecard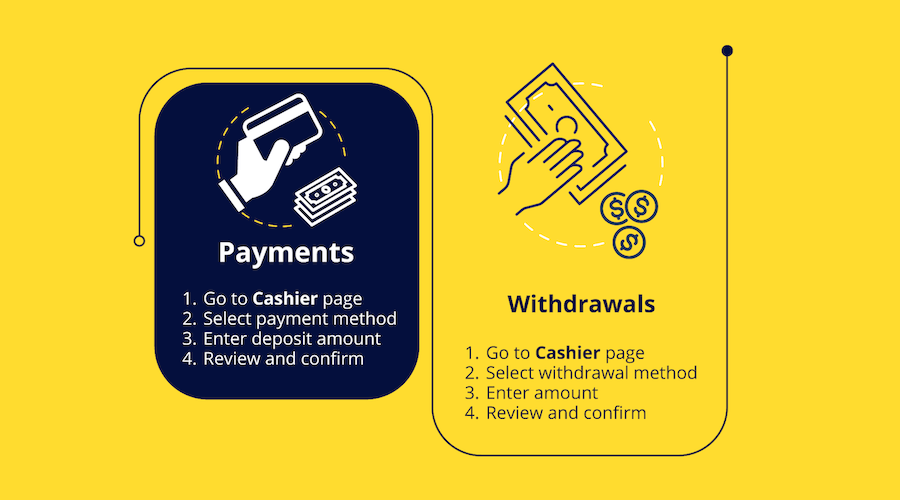 Not all casinos accept paysafecard as a withdrawal method. But for those that do, withdrawing is as easy as depositing. Follow these steps to get started:
For deposits, purchase a paysafecard prepaid voucher in-store or online. To withdraw, you'll need a Paysafecard Mastercard that can also be bought online.
Log into your casino account and head to the Cashier.
Click on the deposit or withdrawal tab and select the paysafecard option.
Enter the deposit or withdrawal amount.
To deposit, add your 16-digit voucher code. To withdraw, use your Paysafecard Mastercard code.
Confirm and complete the transaction.
Here's a tip: ☞ You can combine several paysafecard prepaid codes to get a higher balance when depositing.
Did You Know?
Paysafecard has a maximum limit of 400 CAD per voucher and a maximum monthly value of 10,000 CAD. However, online casinos might enforce a limit of less than 400 CAD per transaction.
Paysafecard Casino Solutions to Common Issues
Here are some common issues you might encounter at a paysafecard casino:
My Paysafecard code isn't working. What should I do?
Check the balance in your paysafecard voucher to confirm you have the funds. If you do, contact the paysafecard support team for further assistance.
Why is the paysafecard option missing under my withdrawals?
Not all online casinos have paysafecard as a withdrawal option. If the casino mentions it's available, and it's still not showing up, you might have to deposit using your paysafecard Mastercard first—a common requirement for withdrawals.
Did You Know?
Paysafecard provides virtual assistance 24/7 and a FAQ page. You can also access these via the mobile paysafecard app.
Pros and Cons of Using Paysafecard at Casinos
Unsure about using a paysafecard casino? Read the following pros and cons to help you decide:
| Pros | Cons |
| --- | --- |
| ✔ Secure and private payment method | ✖ Not always available as a withdrawal method |
| ✔ Mobile app available | ✖ Might incur fees from paysafecard and casinos |
| ✔ Instant deposits | |
| ✔ Thousands of retail partners are available | |
Paysafecard vs. Other Payment Methods
One of the major advantages of paysafecard is its ease and range of use. It offers a mobile app, and it's accepted on numerous online platforms worldwide. Players can buy a prepaid card online or at a local shop without providing personal information, which differs from other payment options.
| Features | Paysafecard | Instadebit | Visa | Interac |
| --- | --- | --- | --- | --- |
| No need to share sensitive information | ✔ | ✖ | ✖ | ✖ |
| Not linked to your bank account or debit/credit card | ✔ | ✖ | ✖ | ✖ |
| Safe and secure method | ✔ | ✔ | ✔ | ✔ |
| Mobile app available | ✔ | ✖ | ✖ | ✖ |
| Widely accepted for withdrawals | ✖ | ✔ | ✔ | ✔ |
| Monthly maintenance fee | ✔ | ✖ | ✔ | ✖ |
Did You Know?
By creating a paysafecard account (myPaysafe), you can receive benefits, such as buying vouchers online, enjoying higher limits, and managing all your vouchers in one place.
Last Words on paysafecard
Paysafecard is a reliable and convenient payment option for those who prefer not to share their credit card or bank account online. It also offers secure and private transactions and a user-friendly mobile app. However, some drawbacks might upset a few, such as its monthly service fee, monthly limit caps, and not being widely available for withdrawals. Nonetheless, it's a popular payment option to start your online casino experience without jeopardizing your data.
Frequently Asked Questions
Paysafecard vouchers have no expiry date. However, a monthly maintenance fee might apply after 19 months of its emission.
You can check your voucher's balance at the official website. Enter your voucher's PIN to see the available balance. A mobile app is also available where you can check your balance.
Absolutely! You can manage your paysafecard balance and decide how much you want to spend at online casino platforms. You can even combine multiple vouchers for a higher balance.
High Flyer, PlayOJO, playzee, and Slots Magic are some online casinos in Ontario that accept paysafecard.
Paysafecard's vouchers aren't linked to your bank account or credit card. Therefore, they can't be traced back to you.
Paysafecard vouchers are available across many outlets in Canada, including Canada Post, Daisy Mart, Esso, Rabba Fine Foods, and more.