Money Cart 2 Review
The Money Train series is generally credited as introducing the Hold and Win feature to players and helping to popularise it more. Money Cart 2 is essentially a spin-off of Money Train 2, where instead of the full game we get to focus on the Hold and Win feature exclusively.
Be sure to read the review below as we cover all the different game mechanics and explain how everything works. 
What You'll Find in our Money Cart 2 Review
Here's a brief overview of what players in Ontario can expect from our Money Cart 2 review. Each slot we present is reviewed thoroughly, with details on all areas of the game. This ensures our readers will have the most complete information and be prepared to fully enjoy the game. 
Symbols: A description of each symbol and how payouts work. 
Min/max bet, autoplay option: Learn about how much you can wager and if the autoplay feature has any extra options.
RTP: An analysis of the RTP value and how it compares to other slots. 
Volatility: We describe the volatility level and how this may influence payouts. 
Maximum win: Learn about the maximum amount you can win in this game.
Wilds, re-spins and other mechanics: Each mechanic and feature is thoroughly explained. 
Mini game: We go over the Hold and Win game and how it works. 
Graphics & sound: We conclude the review with a description of the graphics and sound in the slot. 
Money Cart 2 Symbols & Payouts
The first part of our review will cover the symbols, RTP, volatility, betting options and other related information.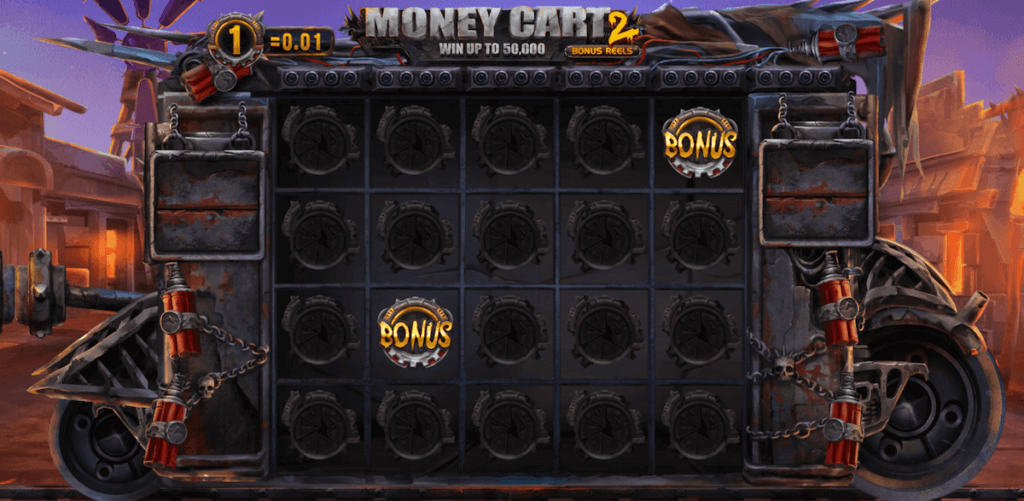 The symbols
Unlike most slots, Money Cart 2 essentially has only one paying symbol, which is the gear. These all have their values written directly on them, so you won't find anything like paytables in this game. We'll explain all of this in more detail when we talk about the Hold and Win feature later on. 
Paylines
As mentioned above, the payouts are a bit more unconventional, so there aren't any paylines either. At the end of each Hold and Win round, you simply collect the values shown on the screen. 
Min/max bet, autoplay option
Money Cart 2 has a betting range from $0.10 to $200. This gives players wide flexibility meaning that casual players can enjoy some spins with little payment, while high-rollers can also wager plenty if they choose. An autoplay and turbo feature are also present.   
Money Cart 2 RTP
Money Cart 2 has a highly impressive RTP of 98%. Not only is this above the average of 96%, it's far higher than what we typically see with slots. Theoretically, it should mean players can get better payouts. 
Volatility
The volatility for Money Cart 2 is at the highest level. Most of the wins here should be big, but at the same time, you can go a number of rounds with no payouts at all.
Jackpot and/or maximum win
The top win possible in Money Cart 2 is 5,000x your bet, which is a solid number overall. While this wouldn't be classified as a jackpot slot, the payouts are still very impressive.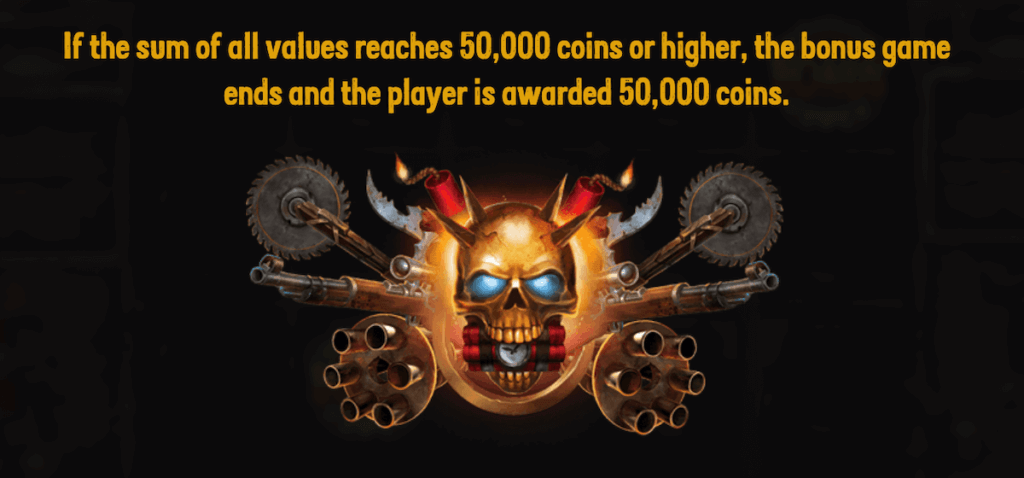 Money Cart 2 is geared to explosive wins
With the Hold and Win mini-game and high volatility, individual payouts in Money Cart 2 should be higher than average. The trouble, though, is that you could go quite a few rounds before finally activating it. 
Game Features
Money Cart 2 works fairly differently from a usual slot. There are a number of interesting details to go over in terms of the mechanics, so let's get right to it. 
Wilds, re-spins and other features
Although wild symbols and additional spins are a staple of most slots, you won't see these in Money Cart 2. The central mechanic here is the Hold and Win mini game, which you need to trigger in order to get any wins. Before getting into how that works, we'll go over the 9 special symbols that can appear and their functions.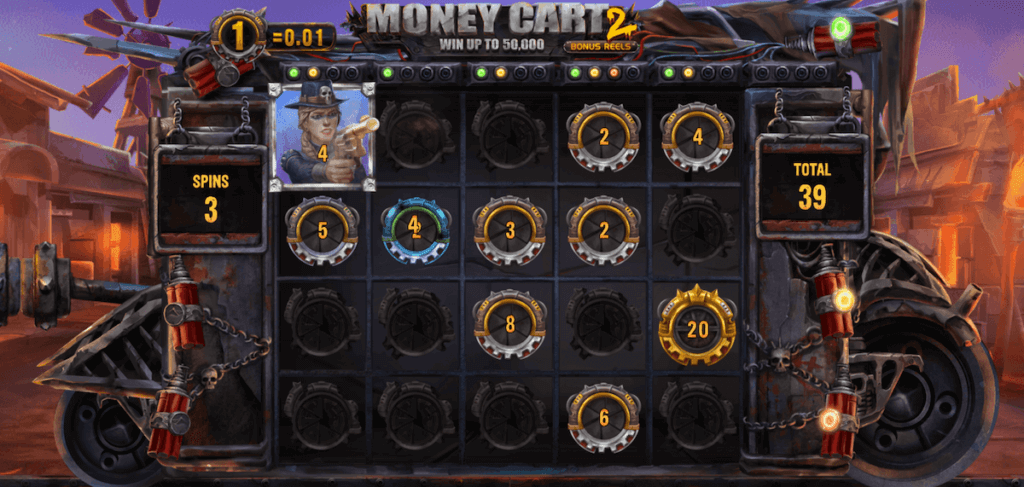 Payer
The payer symbol has a value of its own, which it then adds to all other symbols on screen.
Collector
The collector collects the values of all other symbols on the screen, which then get added to its own.
Collector/Payer
The collector/payer symbol is a combination of the first two. Initially, it adds the values of other symbols to itself, then adds these to all other symbols. 
Sniper
The sniper symbol can double the value of up to eight others. 
Necromancer
The necromancer returns up to seven non-persistent symbols back to the screen.  
Reset Plus
This increases the starting spin counter by one. In other words, when the counter resets you will now have four spins instead of three.  
Persistent Payer
The persistent payer works the same way as the payer but it gets activated each round for all new symbols that appear.
Persistent Sniper
Like the sniper, it doubles the value of symbols, then repeats again for new symbols. 
Persistent Collector
The persistent collector adds the values of all other symbols to itself, then continues doing so for new symbols that appear too.
Hold and Win
This is the central feature of Money Cart 2 and activating it is essential to get payouts. First, you'll need to land three scatter symbols in order to get things started. Once this happens, you'll see a counter with three spins and gear symbols with various values will appear on the reels. 
Each time a new symbol appears, your spin counter gets reset to three. Occasionally, you should also see some of the nine special symbols described earlier. When the spins eventually run out, the total seen off to the right side is multiplied by your wager and awarded to you.
Money Cart 2 Graphics & Sound
Visually, Money Cart 2 is essentially the same as Money Train 2. You still get the dark, futuristic Wild West location as before. So, for fans of the previous title, they'll still get the same experience here.
| | |
| --- | --- |
| Graphics | 2D |
| Optimized for Mobile | 👍 |
| Music | Ominous theme |
| Special features | Explosions, animations, flashing lights |
Money Cart 2 is an excellent-looking game
Money Cart 2 looks top-notch, with quality graphics, music and sound effects. This easily stands among the best-looking slots, although having only one main symbol makes it feel slightly bland.  
Solutions to Gameplay Issues
Generally, you're unlikely to experience any problems while playing Money Cart 2. However, if you notice the game is lagging, freezing, or simply loading slowly, you can try some of these tips. 
Reload your page, then try playing the game again.
Reset your internet connection, in case you were experiencing any interruptions.
In case the game crashes mid-spin, the bets will be voided and refunded to your balance.
Money Cart 2 Provides Explosive Fun
The Hold and Win feature in Money Cart 2 provides tremendous excitement, even when compared to other similar slots. Part of this is that you have all kinds of special symbols that can appear and suddenly boost your wins.
The graphics are about as good as they get, and the soundtrack complements the game very well. There's very little overall to find fault with here, and we can easily give a great score of 85/100.
Similar Slots to Money Cart 2
If you enjoyed Money Cart 2, you'll likely want to give the other games from the same universe a try.
Frequently Asked Questions
Is Relax Gaming safe?
Yes, Relax Gaming has an excellent reputation and is fully licensed in Ontario.
Is Money Cart the same as Money Train?
The two games are very similar, except Money Cart focuses more on the Hold and Win feature.
What's the RTP level?
Money Cart 2 has a fairly impressive RTP of 98%, putting it well above the majority of slots.
How much can I bet?
You can choose to place bets between $0.10 to $200.
What's the top win in the game?
You could receive up to 5,000x your stake.
What features are found here?
The Hold and Win mini-game is the main look to look forward to, which is made even more exciting by having numerous special symbols.
Author
Casino Site Manager
Taylor is the Casino Site Manager for OntarioCasinos and oversees the functionality and performance of the site. She has worked in the iGaming industry for 5+ years as a writer and manager, specializing in the North American markets. When she isn't working, you can find her at the park with her 4-legged best friend, Nala.