Mercy of the Gods Review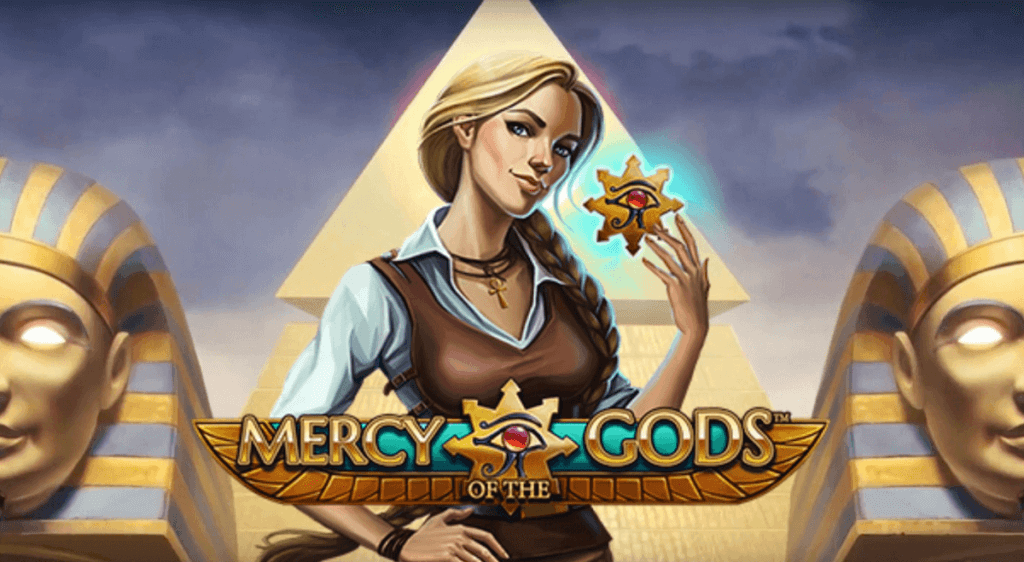 Mercy of the Gods is one of the newer jackpot slots from NetEnt, with three grand prizes up for grabs. If you've played NetEnt's Divine Fortune, you'll notice the two slots are similar mechanically. Mercy of the Gods, however, takes its inspiration from Egypt rather than Greece. Keep reading the review below as we cover all the features of this slot.
Mercy of the Gods Review Contents
We're always sure to carefully review each slot, so we can bring you the exact details of how the mechanics work and our general impression. Below is a quick rundown of the things you can learn more about:
Slot symbols: We describe each symbol and also provide the payouts.
Betting range, autoplay option: Learn more about how much you can bet, as well as what options the autoplay feature has.
Return to Player: We discuss the RTP and how it compares to other slots.
Volatility: Get an explanation of the volatility and its implications for payouts.
Jackpot: The jackpot types and amounts in this slot are further explained, including how to trigger them.
Mini-game: Find out how the mini-game and other features work.
Graphics and sound: Finally, we close with the visuals and whether it really captures the theme.
Mercy of the Gods Symbols & Payouts
Below, you'll learn more about the symbols, potential payouts, RTP, volatility, betting range, and other information.
The symbols
Mercy of the Gods comes with eight paying symbols. The top four are the blond haired adventurer, Horus, two cobras, and a pharaoh's mask. The low paying symbols are A, K, Q, and J.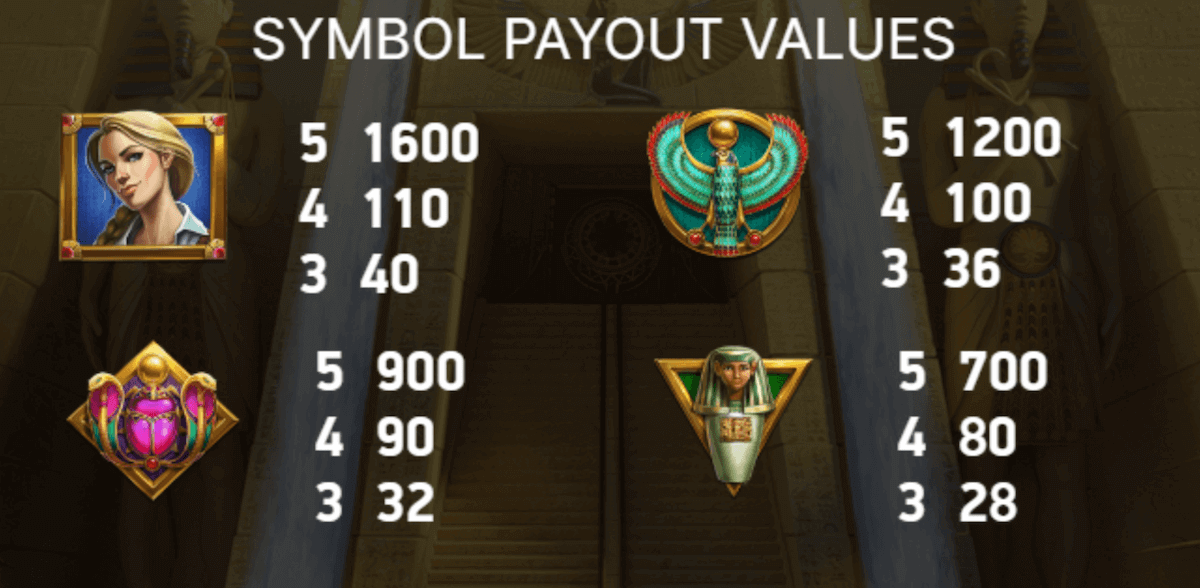 Paylines
There's a total of 20 paylines, which pay left to right. Only the highest win is awarded for each line.
Min/max bet, autoplay option
This slot provides a good betting range from $0.20 to $100, allowing for all bankroll sizes. There's also an autoplay function with several conditions that you can add in, like loss limits.
Mercy of the Gods RTP
This slot has a respectable RTP of 96.64%. This is considered to be a High RTP slot.
Volatility
NetEnt has rated the volatility as high, meaning that anything can happen. Generally, higher volatility allows for bigger wins to occur, but the time in between them can be longer.
Jackpot and/or maximum win
The mega, major, and minor jackpots are undoubtedly the main attraction here. The two smaller ones are tied to your bet value, and the mega is progressive, meaning it can keep growing. In the base game, though, there's a max win of 1,600x that's possible.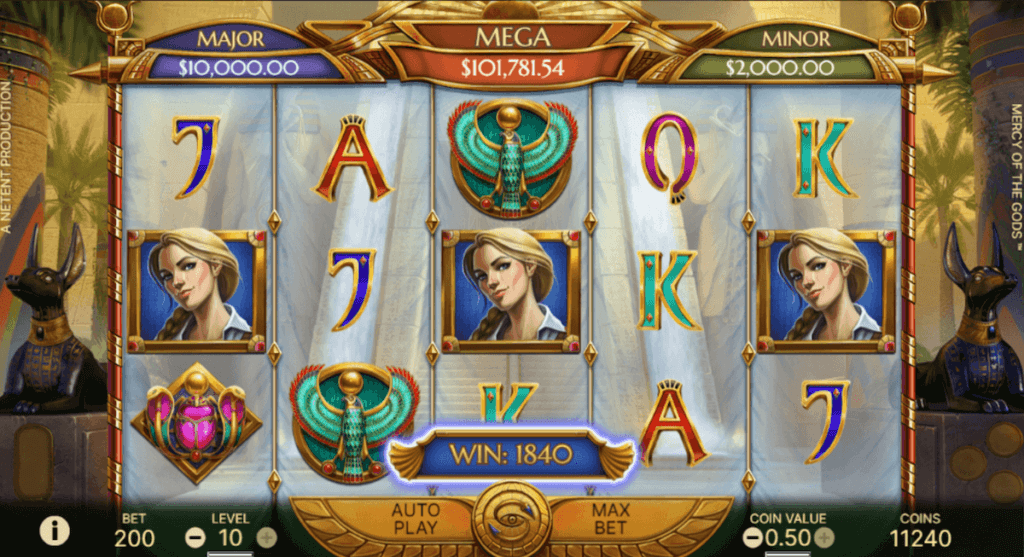 Mercy of the Gods has favourable stats for a slot
With an RTP of 96.64%, Mercy of the Gods is already above many other slots in terms of payout potential. In addition to the main jackpot, NetEnt has also decided to add the possibility of winning two smaller prizes.
Game Features
For this next part, you'll get a rundown of the mechanics in Mercy of the Gods, and most importantly, how each feature is activated.
Wilds, re-spins and other features
Wilds and re-spins are two common features you'll find in slots. However, Mercy of the Gods also has a few other surprises.
Wilds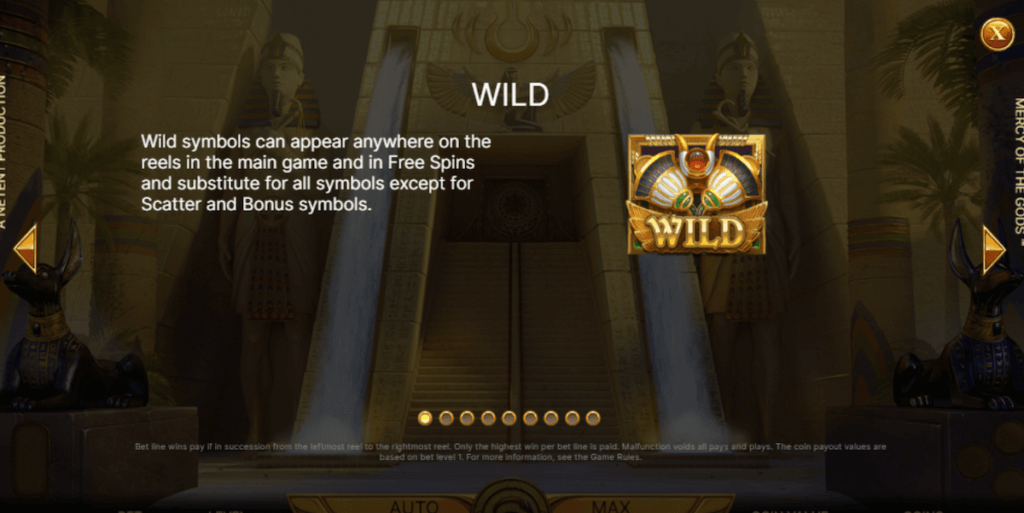 Wild symbols here function largely as you would expect. It substitutes for other paying symbols and can help you get a win. However, if you get more than one wild, something interesting happens.
This activates the Gift of Life Re-Spins, which results in a sticky wild. This triggers re-spins as the wild moves down one row each time until it falls off, and the game returns to normal. So basically, two or more wilds together can give an extra spin or two.
Gift of Double Wilds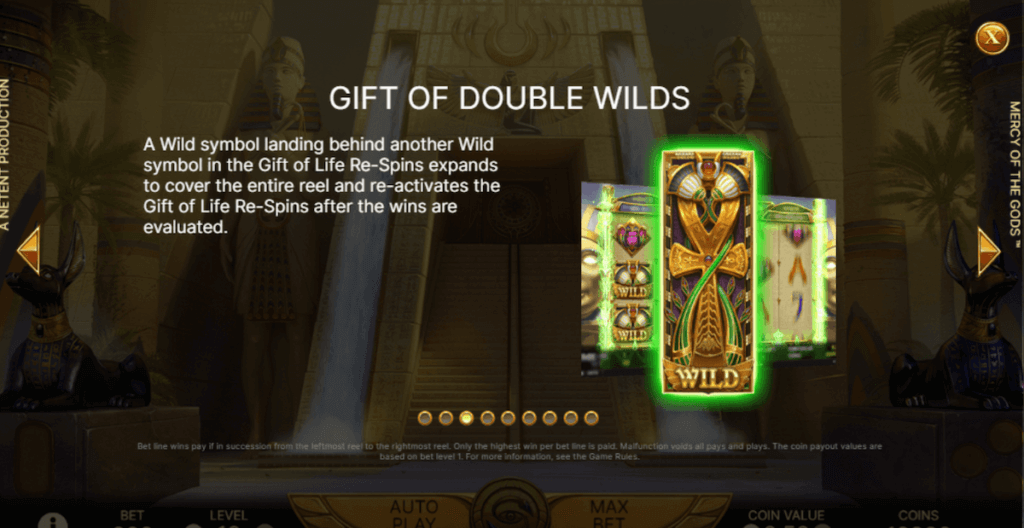 During the Gift of Life Re-spins mentioned above, it's also possible to get expanding wilds that cover a full reel. For this to happen, you need a wild to land on top of another wild.
Re-spins
The largest number of re-spins come with the scatter symbol. By getting at least three, you'll activate five extra spins. You can go as high as 12 with five scatter symbols. Keep an eye on the wild symbols during this time, as each one will expand to cover a full reel.
Gift of Wealth Jackpot
Finally, we come to the jackpot of Mercy of the Gods. Winning one of the three jackpots requires you to enter the mini-game known as Gift of Wealth. For this to happen, you need to collect three special symbols.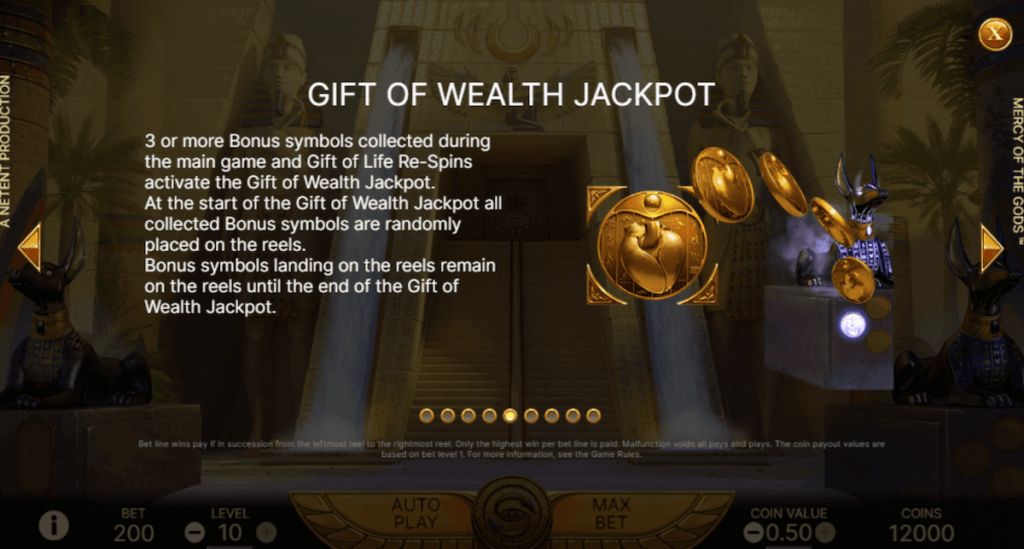 Afterwards, you'll be taken to a different set of reels where there's only one kind of symbol. You'll see three rows, and as you probably guessed already, the number of rows that get filled out with the symbols decides which jackpot you win.
If one row gets filled out, you get the minor jackpot, two rows equals the major, and you'll need every section filled to get the mega prize. You get three spins to start with, but this resets each time one of the symbols lands.
Mercy of the Gods Graphics & Sound
Mercy of the Gods has the kind of graphics we would expect from NetEnt. In the background, you'll see an Egyptian temple with water flowing down the sides and palm trees blowing in the wind. Surprisingly though, there was no music, but the sound effects are great.
| | |
| --- | --- |
| Graphics | 2D |
| Optimized for Mobile | 👍 |
| Music | Sound Effects Only |
| Special features | Animations, Flashing Lights |
NetEnt really captures the Egypt look
As we would expect, NetEnt did a great job visually. The reels are also transparent, allowing you to see the full background. The lack of any music to go with the game was a bit surprising, though.
Solutions to Common Issues
Below are a few common issues you might experience, along with a few solutions you can try.
If you experience slow gameplay or lagging, it's best to check your internet connection speed and try reloading the page again.
In case the game crashes or malfunctions during gameplay, any active bets will be voided and returned to you.
Another Exciting Entry from NetEnt
Mercy of Gods was a fun game to play, and we really enjoyed the variations of wild symbols you can get. It's nice when the base game has more features like this, as they tend to trigger more often.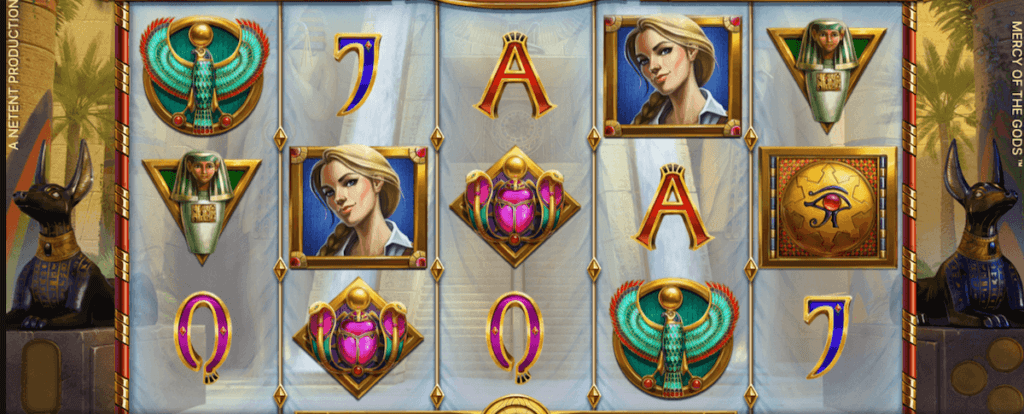 In addition to that, you still have re-spins and all wilds become expanding wilds during these rounds. If we stopped here, this would still be a slot game but on top of that, there's the potential to win three jackpots too. 
Visually, the game also hits the mark, and our only real complaint is the absence of music. Ultimately, we think Mercy of the Gods deserves an excellent score of 85/100.
Slots Similar to Mercy of the Gods
If you enjoyed this jackpot slot, you may want to give its Greek-themed cousin Divine Fortune a try. Otherwise, here are a few other popular Egyptian slots:
FAQs
Is NetEnt a safe developer?
Yes, NetEnt is one of the oldest studios, holds several licenses and its parent company Evolution is licensed in Ontario as well.
Can I try Mercy of Gods for free first?
Yes, players in Ontario can simply head to NetEnt's website and find a demo version to play for free.
What's the minimum I have to wager to play?
The lowest amount you can bet is $0.20.
Is the potential payout of this slot good?
With an RTP of 96.64%, Mercy of Gods might pay out a little better than the slot average.
Has anyone actually won the jackpot?
Yes, people have in fact won the jackpots, and the progressive jackpot continues to grow until someone wins it.
What's a good casino to join?
Please check out our casino page for the best online casinos in Ontario.
Author
Casino Content Writer
Kayleigh is a casino content writer for the Canadian market. Before working on this market, Kayleigh was writing for the general US market and further specialised in the Pennsylvania market. Now, she brings her knowledge and experience to the Ontario market! She's been working as a writing professional for the last decade, and she's dedicated to bringing you practical tips, right at your fingertips.