Knowing how to play the game is key to maximizing your chances of winning. Blackjack strategies will help you learn the ins and outs of Blackjack when playing at leading online casinos in Ontario. Let's dive into our detailed guide for blackjack strategies!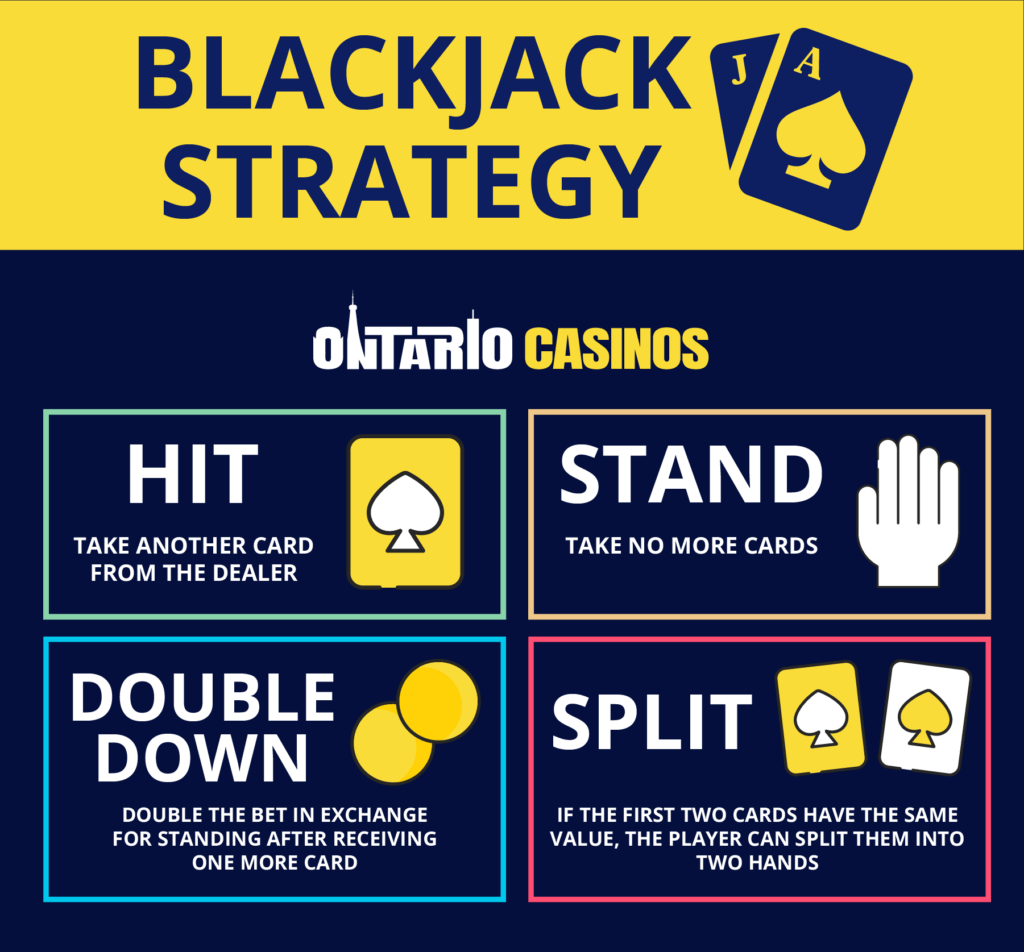 What will you learn from our Blackjack strategy guide?
Learning about blackjack strategy will catapult your chances of becoming a better player. Whether you play an RNG blackjack game or a live casino blackjack game, you're always playing against someone else. By figuring out strategies of different levels, you will be free to make your own decisions about your moves and know what to expect next.
4 important tips before you start
Before diving into the different strategies you can use when playing blackjack, here are a few important tips that will help you navigate through the gameplay experience.
Make sure you find out all about the rules, odds, bets and payouts.
Figure out what blackjack variant suits you best.
Carefully plan what your budget will be, so you know what you're going to spend.
Determine how much time you're going to spend playing. To learn more about this, head over to our Responsible Gaming page.
Basic Blackjack Strategy
A basic blackjack strategy is a strategy that you start off playing with. These types of strategies are ideal for new players or simpler rounds of the game. Here are the top ones you should learn more about.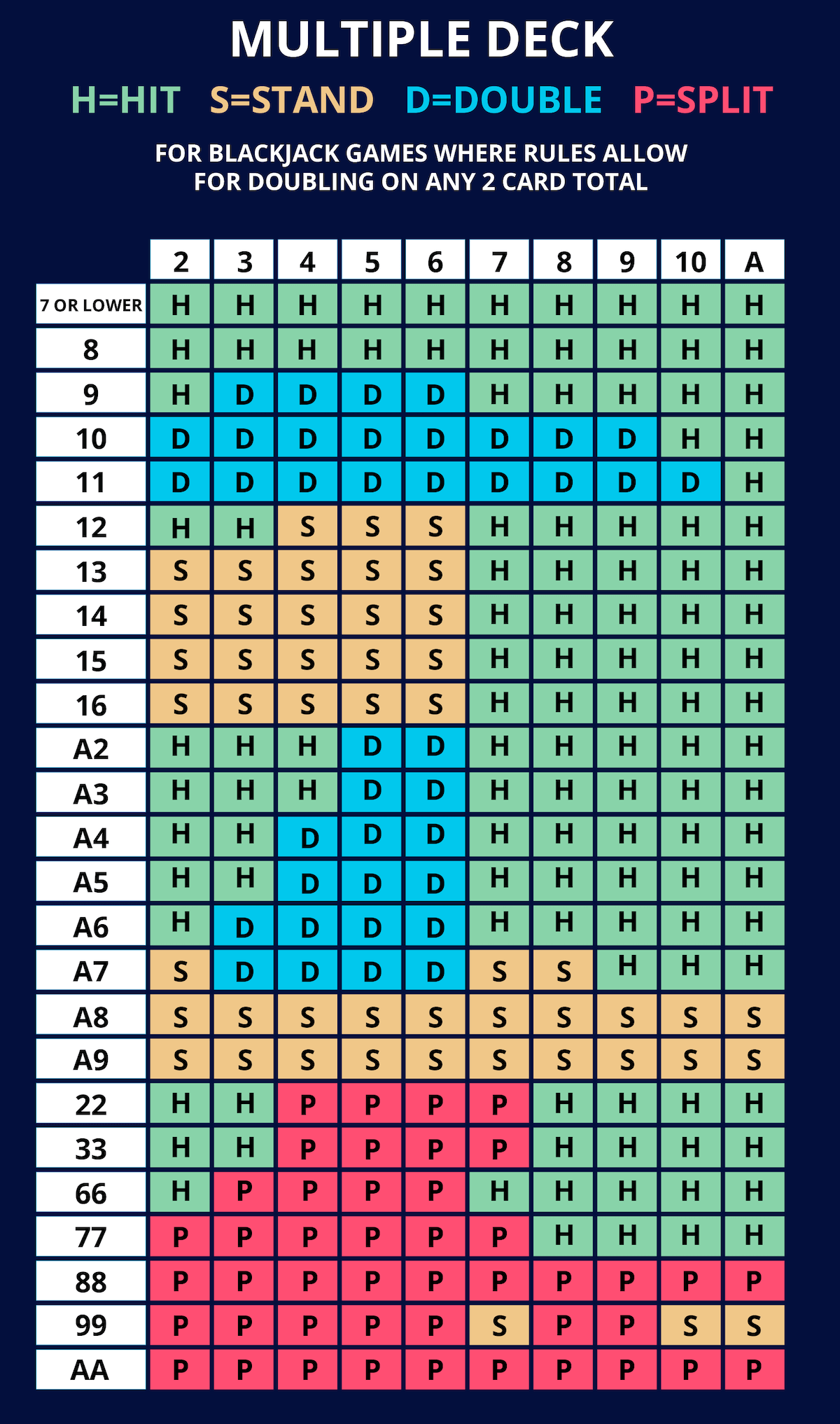 To Hit or Stand?
There are two actions that can be taken when playing the game. These gameplay actions are: Hit or Stand.
Hit is an action where the players ask the dealer to deal them an extra card. You can keep asking for a car until you go over 21, otherwise known as 'bust', or until you decide to stand. Remember, that the whole point of blackjack is not to go bust, so it's important to know when and when not to hit.
Stand means that you are asking the dealer to hold your total and stop playing your turn. Ideally, you should stand when you have the following totals: 17, 19, or 20. Keep an eye out for any split totals that may result in two good hands, such as 8-8, or 10-10.
When to Double Down
Doubling down means that you double your original bet during your hand to get back one extra card from the dealer. This needs to be done when you see an opening. The dealer needs to be at a disadvantage for you to get the most out of this strategy.
Although this strategy is considered to be risky, you can also increase your payout by doing this.
So, when is the dealer at a disadvantage? These hands are when you should take your shot:
If your cards total up to 11
If you have a soft 16, 17, 18.
If you have a hard 9, 10.
Split Pairs
Split pairs is an action that is taken when a player's first hand has two cards that are of the same value. The player can split the cards into two separate hands and get back one extra card for each hand. Meaning the player gets back two new cards.
To continue playing, the player must place a bet on the new hand that is equal to the original bet.
The Soft 17 rule
A Soft 17 is a hand that is worth the value of 17 and includes an ace that is either valued as 1 or 11. The question is how does this rule show up during the game?
The most common hand that this rule can be used is the ace-6 hand. You can also use this rule by adding 3 or more cards, only if the ace is valued as 1 or 11.
When to surrender?
Surrender is when a player chooses to throw away their cards instead of choosing to hit or stand. When you do this, you must be prepared for losing half of your stake. The next time you play will be in the next round of the game. You should also know that not every variant of blackjack allows for this action.
Knowing when to surrender is key. There are two types of surrender in the game of blackjack: Early Surrender and Late Surrender.
If you opt to surrender early, you can do this when the dealer shows a ten or an ace. This needs to be done prior to the dealer realizing they have blackjack. If you see that the dealer has an ace, these are the hands you have to have for you to surrender:
Hard 12-17
Hard 5-7
Pairs of 3,6,7 or 8
If the dealer has a 10, these are the hands you have to have for you to surrender:
Hard 14-16
Pairs of 7 and 8
When a player chooses to surrender late, they can throw away their cards right after the dealer checks if they have blackjack. If they don't have blackjack, you get to keep half of your stake and continue on with the game. You can only opt for late surrender if you have the following hands: 14, 15, or 16.
Advanced Blackjack Strategy

This is where things get a bit more complicated. Advanced blackjack strategies tend to be used by experienced players who have been playing the game for a long time. To use these strategies you must have a working knowledge of basic blackjack strategy. Let's start!
Quick Tip
If your preferred game is in demo mode, play it that way so you gain more experience before trying out advanced strategies.
What exactly is blackjack card counting and is it actually working?
Card Counting is an advanced blackjack strategy that provides the player with the opportunity to figure out if the dealer has an advantage in the upcoming hand.
How to count cards
Counting cards is an action that advanced players use to keep track of all the high-value and low-value cards that are dealt by the dealers. This in turn provides the player with an advantage over the dealers and other players in the game, if any. This is done in order to bypass the online casino's house edge.
Which blackjack Strategy should you choose?
Choosing which blackjack strategy you should use, all depends on the level of experience you have, which blackjack variant you are playing and whether it suits you or not.
The best strategies to try when you're new to casino
As we've already mentioned above, when you're new to casino and don't have a lot of experience playing, you should try out basic blackjack strategies first. Here's a recap of the top 3 you should consider using if you're new to casino:
Double Down
Split Pairs
Soft 17
We're not done yet! Explore these tips to better understand the game:
Try to avoid high-stake games until you become experienced enough at Blackjack. This way you can maintain your budget and you don't cut your playing time short.
Play responsibly by setting winning and losing limits. This is how you can continue to maintain your original budget as well.
Blackjack strategies to play if you're a pro
At this level, pro payers should know almost everything there is to know about the game. The strategy you use always depends on the type of variant you are playing, but here's what you can do with any blackjack variant:
Card Counting: So you're a pro? Then you know that there are different card counting techniques you can use to maximize your chances of winning. You can use the HI-Lo technique, Omega 2 technique and the Wong Halves technique in order to do this.
Dealer Tells: When the dealer looks at their hole card, examine their tells. Tells are what give the dealer away as to what the cards hold. This way, you can either choose to continue using your current strategy or switch it up.
Blackjack strategies that got the most wins
Humongous Betting To Win Big: Kerry Packer, an Australian businessman, won $40M in under an hour by betting large sums of money in each round. He bet $250,000 during every round to do this.
Card Counting: The MIT blackjack team took the casino world by storm. What they did was use techniques like advanced mathematical card counting to win at blackjack in casinos worldwide. They had around 80 members playing and are reported to have won between $50-$100M.

General beginner mistakes easy to avoid
Before we close off this blackjack guide for players at online casinos in Ontario, we thought we'd leave you with a list of blackjack beginner mistakes to avoid:
Not choosing the right blackjack variant/table: Always make sure that the table you choose is favourable to you and your skills.
Not following basic strategy: Strategy is there for a reason. Basic strategy is what will lead to a successful game.
Not knowing your hand signals: During the game, hand signals are favoured over audible signals. This is especially true when it comes to Hit or Stand.
Test out your blackjack strategy today
If you're keen to try out a new blackjack strategy, we advise you to visit the following Ontario online casinos today!
Frequently Asked Questions
That would be Multihand Vegas Strip Blackjack at 99.65%.
Yes, of course, you can! As long as you don't play using the demo mode.
Most Ontario online casinos have a mobile casino version on either an app or a browser. This means you can play online blackjack on mobile!
Yes, online blackjack is legal to play in Ontario as long as it's played at licensed online casinos.
This always depends on the blackjack variant you are playing and the level of your skill. Try to stick to the basic ones at first.
You can try the following online casinos: BetMGM, Casumo, LeoVegas, and LuckyDays.
Author
Casino Content Writer
Kayleigh is a casino content writer for the Canadian market. Before working on this market, Kayleigh was writing for the general US market and further specialised in the Pennsylvania market. Now, she brings her knowledge and experience to the Ontario market! She's been working as a writing professional for the last decade, and she's dedicated to bringing you practical tips, right at your fingertips.