We bring you another crash game to try out in Ontario! Spaceman is designed and developed by the iGaming giant, Pragmatic Play, so you know you're in for a treat!
What you'll find in this Spaceman Review
Gameplay – The team played through every single part of the game.
Betting options – The betting range is tried and tested.
Auto-Features – Aside from using the auto-features of the game, we also used the auto-cash-out feature.
Fairness – We played the game and examined how random and frequent it really is.
Specs – RTP, maximum win, and other important data were checked.
Graphics – Graphics are assessed to see if they contribute to the overall experience of the game.
Where to Find Spaceman in Ontario
Spaceman Statistics
With any crash game, the most important thing is to check out the statistics to understand your chances. If you want to play a crash game, make sure you find out this information first.
| | |
| --- | --- |
| Min bet | 1 |
| Max bet | 100 |
| Max win | x5000 |
| RTP | 96.50% |
| Autoplay | 👍 |
| Features | N/A |
Min/max bet, max win
In Spaceman, you can bet as little as 1 and as much as 100, which is reasonable for a game of this type. Additionally, the maximum bet is quite good for a crash game. The value stands at x5000!
RTP
Spaceman's Return to Player (RTP) percentage is 96.50% which is pretty standard for crash games. Pragmatic Play also has a tendency of bringing decently rated games to the market, so there's no surprise there.
Did you know?
With Crash Games, features are usually limited, so make sure you opt to use what's available. It can enhance your overall experience.
Game Features
Autoplay option
This feature is split into two: the Auto-Cashout and the Auto 50% Cashout. Using the Auto-Cashout is a feature where you can pick your own multiplier. When this is done, your stake will be withdrawn according to this multiplier.
Next up, we have the Auto 50% Cashout which lets the player set a lower than usual multiplier for the game. If you decide to err on the side of responsibility, this is definitely the feature to try out! Here's how it works: let's say you want to set your multiplier at x50. If the game starts going about x50, you can still wait and risk losing, but you can opt to select that x50 and be done with it!
Spaceman Graphics & Sound
The Robot is the star of the show in this crash game alongside an intergallactic backdrop that creates an engaging experience.
| | |
| --- | --- |
| Graphics | 2D |
| Optimised for Mobile | 👍 |
| Music | 8-bit |
| Special features | Auto-Cashout, Auto 50% Cashout |
Did you know?
Crash games are making a huge splash in the Ontario market, and Spaceman is at the centre of it all. Spaceman is actually considered to be one of the best crash games out there, so try it out!
How to play Spaceman
You don't need to worry much about playing Spaceman. Like any crash game, it's straightforward. To show how easy it is, here's a step-by-step guide.
Bet
By clicking the buttons on your screen, select how much you'd like to bet and proceed by clicking Confirm Bet.
Game Starts
The game will begin when the little robot begins to go up and up! When this starts, the multiplier will start increasing, and you can choose to remain in the game or opt-out any time.
You're Done
The second the little robot crashes, your multiplier will stop increasing, and you lose your bet. The next round will start right after if you choose to play again.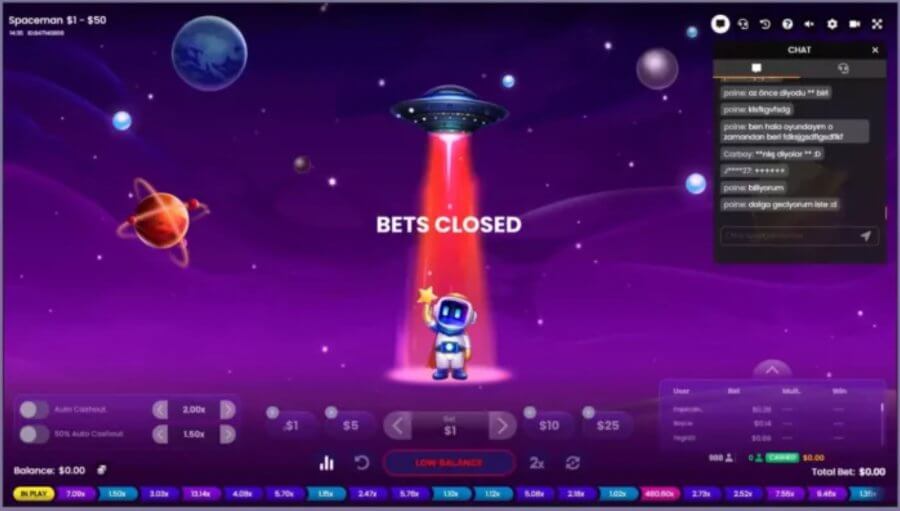 Solutions if you have some issues with a game
If you encounter a problem while playing the game, here are some solutions you can implement.
If you game get interrupted, you can replay that round by restarting the game.
If the replay option is not available, go ahead and communicate with the online casino's customer support.
If you game malfunctions due to hardware or software issues, all bets and payouts will be rendered void and refunded.
The Spotlight's on Spaceman
Spaceman is one of the best crash games you can play in Ontario, so we're giving this game a solid 9/10. It's simple, engaging, and the graphics are just what you want in a game like this. The Auto 50% Cashout feature seals the deal for us. It's the perfect feature to help you remain within budget and responsible. It also can increase your gameplay time if you use it correctly!
To remain updated on all things Crash Games in Ontario online casinos, make sure you read through our detailed guide that our team has curated for you.
Other crash games to play if you like Spaceman
The Ontario market offers a limited number of crash games at the moment. Game providers are limited to Pragmatic Play, Red Tiger and Spribe!
Astronaut
Frequently Asked Questions
Yes, you can. You can make money as long as you opt out in time!
The game can be found at legal an regulated online casinos in Ontario.
Yes, you can! You can find it at top online casinos in Ontario.
Spaceman has Auto-Cashout and Auto 50% Cashout features.
The RTP of Spaceman in Ontario is 96.50%.
You can try the demo mode out on Pragmatic Play's site!
Author
Casino Content Writer
Kayleigh is a casino content writer for the Canadian market. Before working on this market, Kayleigh was writing for the general US market and further specialised in the Pennsylvania market. Now, she brings her knowledge and experience to the Ontario market! She's been working as a writing professional for the last decade, and she's dedicated to bringing you practical tips, right at your fingertips.