The world of dice games is just as great as any other online casino game in Ontario. Whether you're into Craps, Sic Bo, or anything else that's available in the online Ontario iGaming market, we're here to help you understand it.
What Are the Best Online Dice Games Casinos in 2023?
If you're looking for the best Ontario online casinos to play dice games at, we've got you covered. Our team regularly checks and audits the regulated online casinos in the market, therefore we always strive to provide you with the best and most recent information about where to play.
Did you know?
Online casinos in Ontario add different types of casino games on a semiregular basis. As dice games become more popular, we hope to see a lot more of them in the market.
Most Popular Dice games in Ontario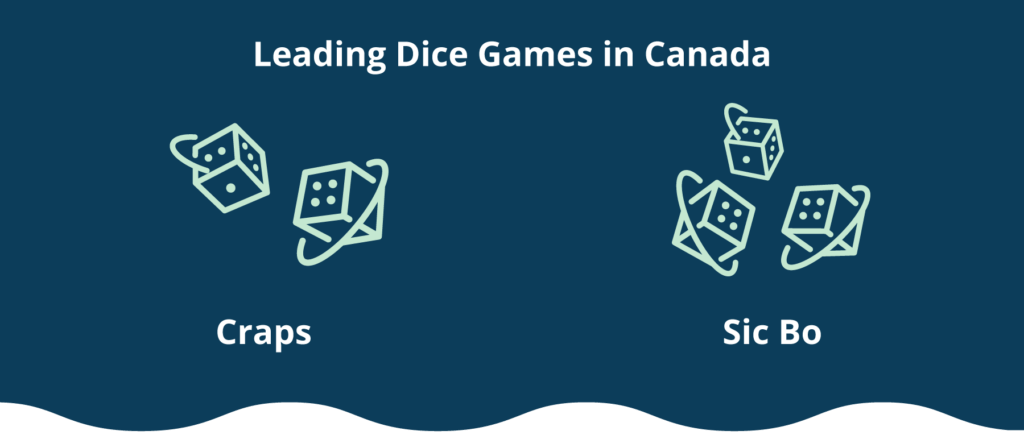 Craps and Sic Bo are the two most popular dice games you'll be able to find at Ontario online casinos.
As of right now, dice games aren't the most popular type of casino game in the market, but we're seeing more Craps and Sic Bo games added to game libraries all over Ontario.
Craps
Craps is perhaps the most popular dice game in Ontario. The objective is for players to wager against other players or what's called, 'the bank'.
This game can be traced back to the 1910s in the United Stated. It started off as being a simplified version of the game 'Hazard '.
Sic Bo
Sic Bo is the second most popular dice game that can be found in Ontario online casinos. While you won't be able to find it at all of them, you can find Sic Bo at the online casinos we mentioned above.
This is a game of Chinese origin and the way it goes is this: there are scoring boxes clearly labelled on the table and players must put their wagers in those specified areas. The dealer shakes the dice (which are in a box), and unveils the combination.
Did you know?
With the market being fairly new, we expect to see more online dice games become available in the Ontario market this year.
Is it safe to play Dice games in Ontario?
If you are playing at a trustworthy and regulated online casino in Ontario, then yes. It is absolutely safe to play dice games.
Remember that you always need to be playing within the regulated market.
Are Dice games legal to play in Ontario?

Yes, they are! As long as you are playing at an online casino that is approved by the Alcohol and Gaming Commission of Ontario (AGCO) and iGaming Ontario (IGO), you are totally playing a legal game.
You need to make sure that you see the AGCO and/or IGO logos on the online casino site. These are usually located on the homepage or in the footer section of the site.
Read up on your responsible gambling to make sure you are also playing within the legal limits of Ontario. This will also help you remain safe and stay within your own limits.
What are Dice games?
Simple. Dice games are games of chance. They are casino games that have outcomes that solely depend on the roll of the dice. These games all revolve around the dice! Whatever the rules or variations of dice games you're playing, the dice will always be the star of the show.
Why play Dice games Online?
Playing dice games is an engaging experience. Players tend to find learning how to play dice games, is easy, enjoyable, and appealing.
Here is why we think playing dice games online is a lot better than playing them at land-based casino nowadays.
Online Dice games vs Dice games in Land-based Casino
| | Online Dice games | Dice games in Land-based Casino |
| --- | --- | --- |
| Play from your home | ✔ | ✖ |
| Play anytime | ✔ | ✖ |
| Variety of variants | ✔ | ✖ |
| Demo mode | ✔ | ✖ |
Did you know?
When playing in Demo mode, players can play the game without spending any money. You can try out the game to see if you like it, and find out the rules of the game that way.
3 important tips to know before playing Dice games

Before you decide to head over to your Ontario online casino and start playing, check out these three important tips we think you need to know.
1. Know Basic Rules, Side Bets and Payouts
Once you pick your preferred dice game, read up as much as you can about it. For example, if Craps is your preferred dice game, go to our craps game guide to learn as much information as you can about the game! Learn the basic rules, side bets and payouts before playing with your own money.
2. Learn all Betting Strategies
Betting strategies are key to any online casino game. By reading up on betting strategies, you can engage in the game better, learn what other players can bet and a lot more.
3. Plan your budget and your time
The first thing you need to do before anything else is plan your budget and how much time you want to spend playing. You can set up spending and time limits from the responsible gambling page of your Ontario online casino.
Did you know?
Usually, you set up responsible gambling limits when you first register for an account. These limits can be changed at any time or after a period of time, depending on the rules of the online casino.
All the other games with dice
Even though Craps and Sic Bo are the dice games available at most Ontario online casinos, there are other dice games that exist. Here are a few of them!
Chuck A Luck
This game is played used 3 dice and can also be considered to be a variant of Sic Bo. Chuck A Luck can also be called 'birdcage'.
Klondike
Klondike is played using 10 dice and back in frontier times, it actually used to be played with 5 dice. The game is played using three sections marked on the table: win, lose and beat two aces.
Banka Francesca
Banka Francesca is a game that originated in Portugal and is played using 3 dice. The game is also very similar to Baccarat and Punto Banco.
Ricochet
Ricochet is a dice game that used 3 dice. The game is also known for having a large range of bets.
Under And Over Seven
This game is considered to be a super simple game. Players must place a wager during each round, and it all depends on the outcome of the dice (whether it is under or over seven, or exactly seven).
Did you know?
Dice have been around for thousands and thousands of years!
Play Dice games on mobile
Mobile casinos are loved for a reason. You can play anywhere and anytime! So if you find an Ontario mobile casino that you love and has your favourite dice games, make sure you bookmark that site or download the app!
Check out the following mobile casinos: LeoVegas, 888, Casumo, ComeOn!, Pokerstars, SlotsMagic.
Popular Dice games providers
When it comes to dice games, we would say that the top game providers are Evolution Gaming and Pragmatic Play. Both have been developing dice games over the years, making them the leading providers of Craps and Sic Bo.
May the Dice be with you!
As we've already mentioned, the most popular games you'll find in Ontario online casinos will be Craps and Sic Bo. Although you won't find many options for different games or variants of these games, you are bound to find one or two games at the top online casinos in the market.
Our team regularly updates our pages, so make sure you bookmark this page to see if there's anything new in the world of dice games.
Frequently Asked Questions
Craps is the most common dice game in the Ontario market.
Right now, only Craps and Sic Bo are played at Ontario online casinos.
Other than Sic Bo and Craps, there's Hazard, Birdcage, Ricochet, Klondike and more.
The best way to play dice games is to learn and follow the rules of the game. Check out our game guides to learn more.
Their popularity is growing in Ontario. We expect to see online casino game libraries grow soon!
Dice games are known to be simpler than other casino games to learn.
Author
Casino Content Writer
Kayleigh is a casino content writer for the Canadian market. Before working on this market, Kayleigh was writing for the general US market and further specialised in the Pennsylvania market. Now, she brings her knowledge and experience to the Ontario market! She's been working as a writing professional for the last decade, and she's dedicated to bringing you practical tips, right at your fingertips.