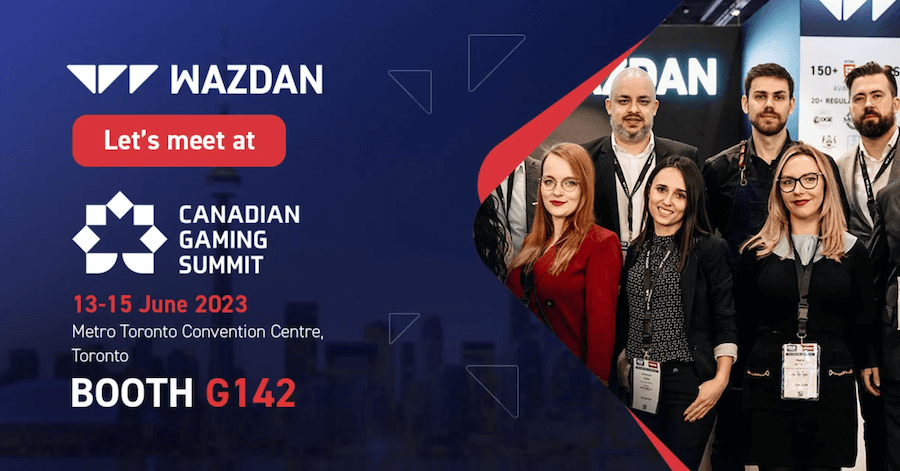 Between the 13th and 15th of June, 2023, Wazdan will present at the Canadian Gaming Summit to share their products with industry leaders, shareholders, and iGaming experts.
The Canadian Gaming Summit is the place to be to get in touch with what's happening in the industry and what's about to be launched. It'll be held at Metro Toronto Convention Center, and Wazdan can be found at Booth G142.
As you may or may not know, Wazdan has been pretty vocal when it comes to its expansion into the North American market, especially Ontario. Being at this summit and welcoming experts to take about Wazdan further solidifies their dedication to being in the market.
While at the booth, Wazdan will be there to share more information about their game library, specifically their most popular games, which include the Hot Slot™ and 9 Coins™ series. The provident will also be there to talk about their award-winning promotional tool, Mystery Drop™.

If you're wondering who'll be in attendance at the Wazdan booth, here's who visitors will be able to talk to.
Michal Imiolek – CEO
Andrzej Hyla – CCO
Izabela Slodkowska-Popiel – Head of Account Management for North America and Latin America
Marcin Trafialek – Account Manager
Wazdan is also a Premium Sponsor of the pre-registration party happening on the 13th of June. The party and the booth will give the provider plenty of opportunities to share more about their portfolio, products, and future plans.
This is what Wazdan's Chief Commercial Officer, Andrzej Hyla, had to say about their exhibition at the Summit.
"The Canadian Gaming Summit gives us a fantastic opportunity to strengthen our existing relationship and engage in meaningful conversations with our valued clients, as well as gather feedback that is critical to our entire operations."
"The Canadian market remains a key region for our commercial expansion roadmap, and the summit marks the perfect occasion to demonstrate what our high-quality and innovative games bring to the market."
Top Wazdan Game Reviews
Latest News
Author
Casino Content Writer
Kayleigh is a casino content writer for the Canadian market. Before working on this market, Kayleigh was writing for the general US market and further specialised in the Pennsylvania market. Now, she brings her knowledge and experience to the Ontario market! She's been working as a writing professional for the last decade, and she's dedicated to bringing you practical tips, right at your fingertips.