Roulette strategy: Which one is the most popular?
The first thing you need to do before playing roulette is choose a top roulette win strategy. We've decided to list all the most successful roulette strategies in the market, one after the other.
Roulette strategy n°1: Martingale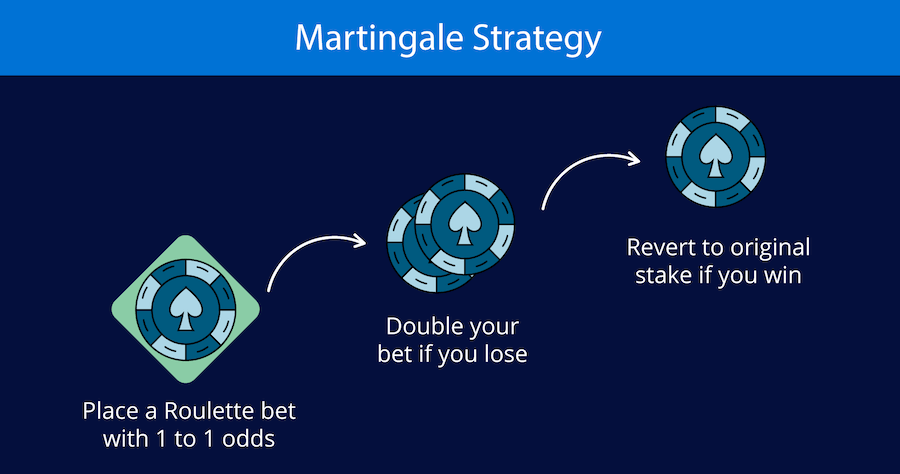 In the Martingale Strategy, you try to recoup losses from the previous round. That's the whole point. You bet double your previous bet each time you lose. If you bet $20 in your current round and you end up losing that round, you will have to be $40 next time.
If you win the game, then well done, you're in for an awesome win, but if you lose, you'll end up losing more money than you intended to. The roulette strategy martingale is well-known for good reason. It's risky and volatile. Keep in mind that it is better suited for medium to well-experienced Roulette players.
Roulette strategy n°2: Reverse Martingale
As the name suggests, the Reverse Martingale strategy is the same as the Martingale strategy, only you bet double when you win. It's definitely less risky this way because if there's a loss, you'll go back to your original bet.
Roulette strategy n°3: Fibonacci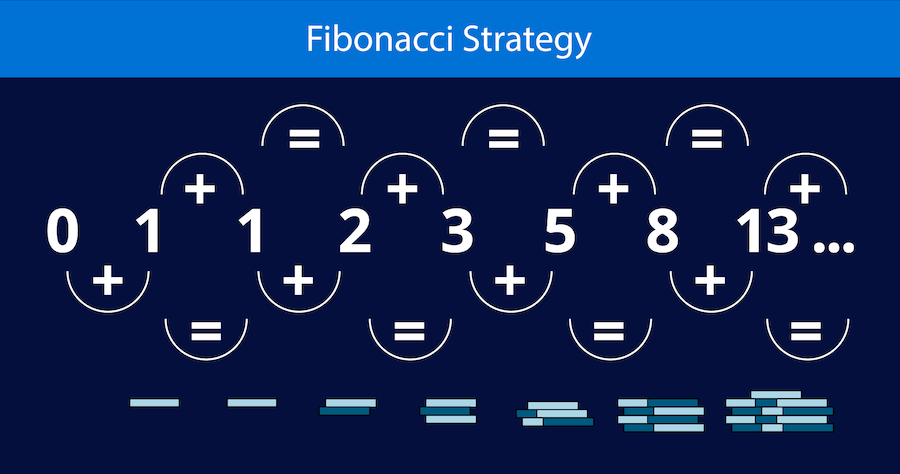 The Fibonacci strategy can't be used on any bet you make. This strategy can only be implemented when the bet you made has around 50% odds of winning. Why? Let's get into it. This strategy is based on the Fibonacci number sequence. Every number in this sequence is a direct total of the previous two numbers in the sequence.
Roulette strategy n°4: The D'Alembert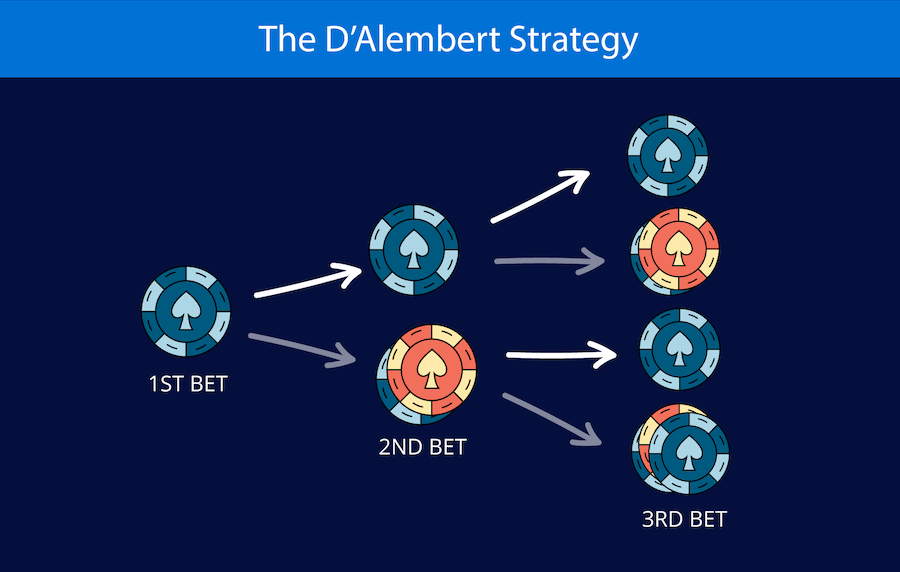 The D'Alembert strategy is a roulette strategy that will only work on even bets such as red or black. This strategy requires you to select an amount that will act as a unit throughout your game.
Say you pick $1 as your unit. If you win the current round's bet, you'll decrease your next bet by $1, but if you lose the current round, you will need to add $1 to your next bet. This strategy is manageable as long as you select a unit ($) that fits your budget for the game.
Roulette strategy n°5: Contra D'Alembert System
We have another reverse strategy for you! The Contra D'Alembert System works in the same way the D'Alembert strategy does. Here's the difference between them. You will instead increase your bet by 1 unit when you win (not lose) and decrease your bet by 1 unit when you lose (not win).
Roulette strategy n°6: The James Bond Betting Strategy
The James Bond Betting strategy differs a little from the others in that this strategy is a flat betting strategy. This means that you will bet the same amount of money in every round.
This strategy also involves you making three bets in 1. So if you bet $20, you'll be splitting that bet into: $14 on the high numbers (19-36), $5 on the double street (13-18) and $1 on zero. By utilizing this strategy, you are planning for more than one possible outcome.
Roulette strategy n°7: Fisher
We have another even number bet strategy for you. With the Fisher strategy, you can only bet on the even numbers. These bets have the highest odds of winning, so the risk is lower. Note that this strategy works best with the European and French variants.
Roulette strategy n°8: Labouchere System
Labouchere System strategy is another even bet strategy. This means that it can be used with the following bets – Red/Black, Even/Odd, and 1-18/19-36. It works well and is less risky if you use it to bet on something that has around 50% odds of winning.
Decide on an amount you want to win. The next step is to write a sequence of numbers that add up to your desired amount. You are required to add up the number on the far right and the number on the far left together and bet the result. If you win, omit those numbers from any future bets. If you lose, those numbers are added to the end of your list again.
Roulette strategy n°9: Reverse Labouchere System
The Reverse Labouchere System is identical to the Labouchere System, but instead, you add the amount you wagered to the end of your written-down sequence. If you lose, those numbers are crossed out.
Roulette strategy n°10: Andrucci System
If you're looking for a high-risk but high-rewarding strategy, the Andrucci System strategy is for you. We should note that the nature of this strategy is better suited for experienced players due to how fast it can destroy your bankroll.
You begin by betting around 30 to 37 times on different types of even bets. Take note of where to ball lands every time on the wheel. By doing this, you can see which numbers are most likely to come up and wager a straight-up bet on a popular number. You'll have to repeat the same bet on the same number 30 to 37 times.
Roulette strategy n°11: Paroli System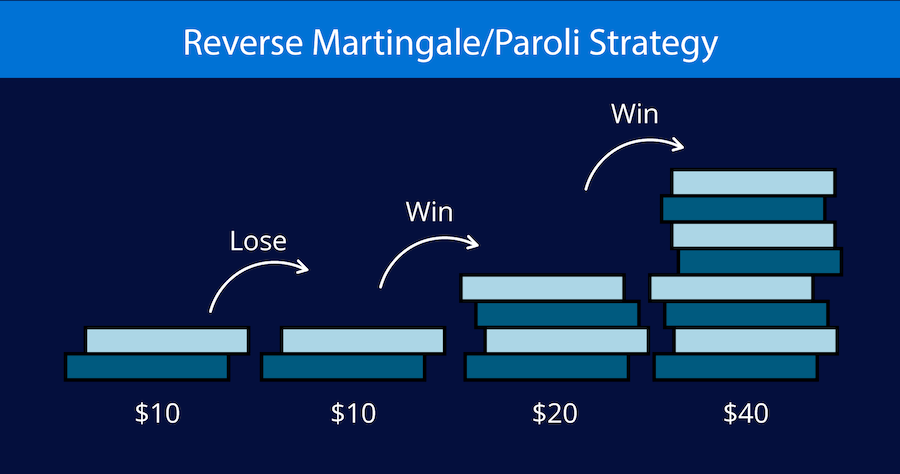 The Paroli System is another even-bet strategy where every bet you make is dependent on the previous one. When you lose a round, you'll need to bet the same amount in the next round, but if you win, you can double your bet. If you end up winning three times in a row, you're allowed to go back to your original wager.
Roulette strategy n°12: 3/2 System
The 3/2 System is a strategy where you can bet on both even bets and column bets at the same time. Place the larger portion of your bet on the red or black and the smaller bet on a column. By utilizing this strategy, you are covering a more significant part of the wheel.
Roulette strategy n°13: 1 3 2 6 System
Lastly, we have the 1-3-2-6 System. This strategy tells you how much you need to bet and in what order. Basically, this is how it'll go. In the first round, you'll need to bet $10. In the following round, bet $30, then $20 and finally, $60.
Which Roulette Strategy should you choose?
Not every roulette strategy is a successful roulette strategy. This is all dependent on your roulette skills and luck since roulette is a game of chance as well. The roulette variant you've chosen is also a considerable factor. Choosing a winning strategy for roulette, is not as complicated as you may think. All you need are some roulette tips and advice on how to proceed.
The best strategies to try when you're new to casino
We recommend low risk strategies if you're a beginner to the world of roulette betting strategy. To be a little more specific, we'd suggest you try positive progression strategies due to the lower variance behind them and the fact that you can preserve your bankroll for longer. Here are some of the roulette strategies we recommend.
Reverse Martingale
Contra D'Alembert System
Reverse Labouchere System
Roulette strategies to play if you're a pro
If you're a pro, you probably already know which roulette strategies work for you. We're here to remind you that it never hurts to do your research and switch up your strategy every now and then. Remember to do so responsibly and never go over your designated budget. Here are the most popular strategies for experienced roulette players.
Martingale Strategy
Fibonacci Strategy
D'Alembert Strategy
The James Bond Betting Strategy
Roulette strategies that got the most wins
Martingale
D'Alembert
Fibonacci Sequence
General beginner mistakes easy to avoid
In this roulette strategy guide, you'll get to dip your toes in the world of Roulette and gradually learn how to succeed when playing the game. At almost every Ontario online casino, you can try out your strategy by playing in demo mode! This will allow you to explore the game without experiencing any losses.
If you're new to the game, remember that there are mistakes that may be made but are totally avoidable. First up, manage your bankroll and make sure you stay within your budget. Don't exceed your limits. You can ensure this by using any responsible gambling tools your online casino has. Make sure you know all the betting options available. Roulette is a game of chance but the betting options are the part you can control. Lastly, avoid American Roulette if you're new. Opt for European or French Roulette! Much more beginner friendly.
See you next time!
Frequently Asked Questions
Yes! Roulette games are approved and regulated by the AGCO.
You can find Roulette at top Ontario online casinos.
Due to its high popularity, we'd say the Martingale Strategy.
No as Roulette is a game of chance. No strategy will guarantee you a win.
The online roulette games you'll find at legal Ontario online casinos, will have been audited by third-party testing labs to make sure they are up to standard and fair.
Most Ontario online casinos offer a demo version of the game. Try this out to test out your strategies.
Author
Casino Content Writer
Kayleigh is a casino content writer for the Canadian market. Before working on this market, Kayleigh was writing for the general US market and further specialised in the Pennsylvania market. Now, she brings her knowledge and experience to the Ontario market! She's been working as a writing professional for the last decade, and she's dedicated to bringing you practical tips, right at your fingertips.