Muertos Multiplier Megaways Review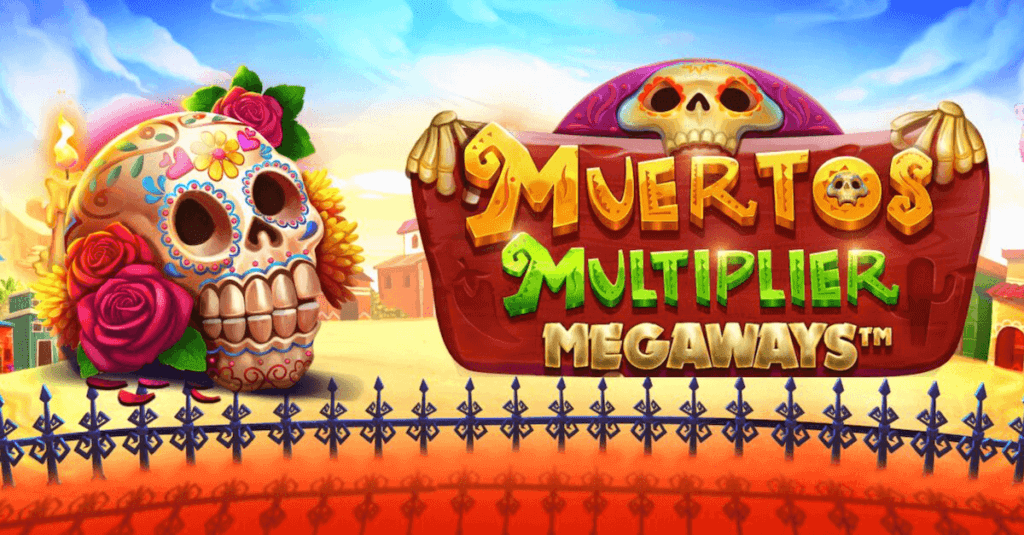 Ready to experience this Pragmatic Play slot? Muertos Multiplier Megaways is Megaways slot that is jam-packed with gripping game features, bright graphics, enchanting music and delightful game board symbols. Let's dive right in.
Muertos Multiplier Megaways Review Contents
When we review an online slot, we go through a specific process. Here's what we did and what we will be answering in this Muertos Multiplier Megaways Review.
Slot symbols: What symbols are there, and how much do they pay out?
Minimum and maximum bet and autoplay option: Whats the bet range is there an autoplay option?
RTP: Does the RTP qualify as a high RTP?
Volatility: What's the volatility level?
Jackpot and/or maximum win: What is the maximum win, and is there a jackpot?
Wilds, scatters, multipliers, re-spins and other features: What do the game features add to the game?
Bonus-buy option: Is there a bonus buy feature, and if so, what does it add?
Bonus game: If there's a bonus game, what's it like?
Graphics & sound: What do the graphics and sound offer to the overall experience?
Muertos Multiplier Megaways Symbols & Payouts
As we already mentioned above, Muertos Multiplier Megaways is based on the popular and respected celebration of the Day of the Dead, so it's no surprise that the symbols are inspired by this celebration. But we've seen this theme repeatedly, so what's different this time?
The symbols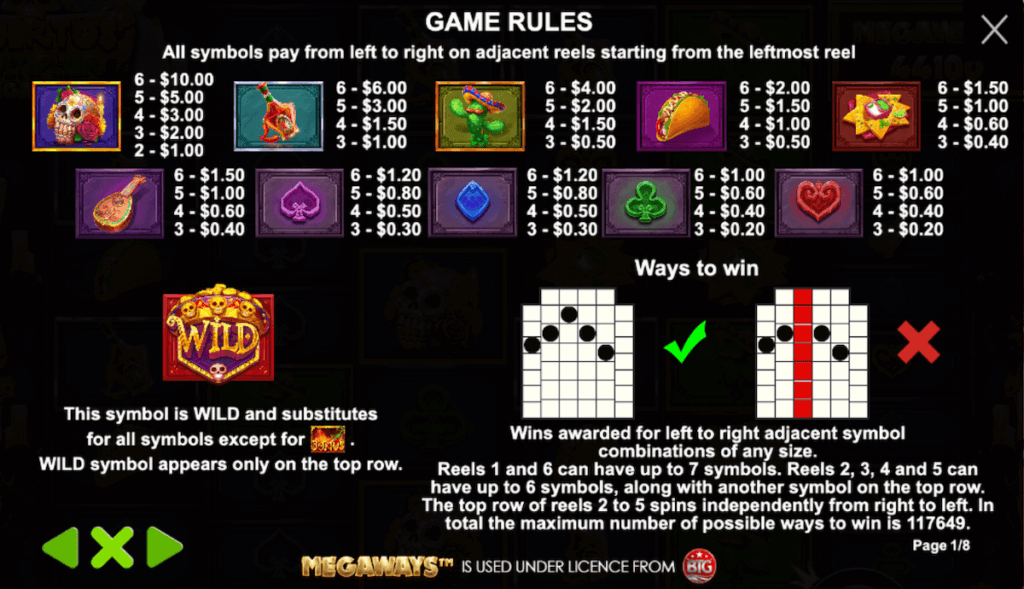 There are 10 paying symbols in Muertos Multiplier Megaways. The following symbols are the higher paying symbols: skull, bottle of chilli sauce, cactus, taco, nachos, and a guitar. The club, diamond and heart are the lower-paying symbols.
Paylines
Since this is a megaways slot, it's no wonder that we get up to 117,649 paylines. The payline payout is from left to right, and only the highest win is awarded with every line.
Min/max bet, autoplay option
The minimum bet you can place in Muertos Multiplier Megaways is $0.20 and the maximum bet is $100. You should also keep in mind that there is an autoplay option that you can utilize.
Muertos Multiplier Megaways RTP
This is where we need you to pay attention. Muertos Multiplier Megaways has a ranging RTP. Although the range isn't wide and nothing to worry about, we would still recommend you become aware that it'll change. The original RTP stands at 96.03%, but if you decide to use the bonus buy feature, it'll go down to 96%. This is still considered to be a high RTP range.
Volatility
High volatility should come as no surprise to players who are well acquainted with Pragmatic Play. Muertos Multiplier Megaways joins the list of high-volatility slots from Pragmatic Play's library.
Remember that with high volatility come awesome rewards, but they aren't churned out as often as players would like.
Jackpot and/or maximum win
Muertos Multiplier Megaways offers a x10,000 maximum win.
There's a significant potential win
Since high volatility can result in bigger wins, we'd say that this potential win is decent. The RTP is classified as average to high, which is no different from most Pragmatic Play slots in the market.
Game Features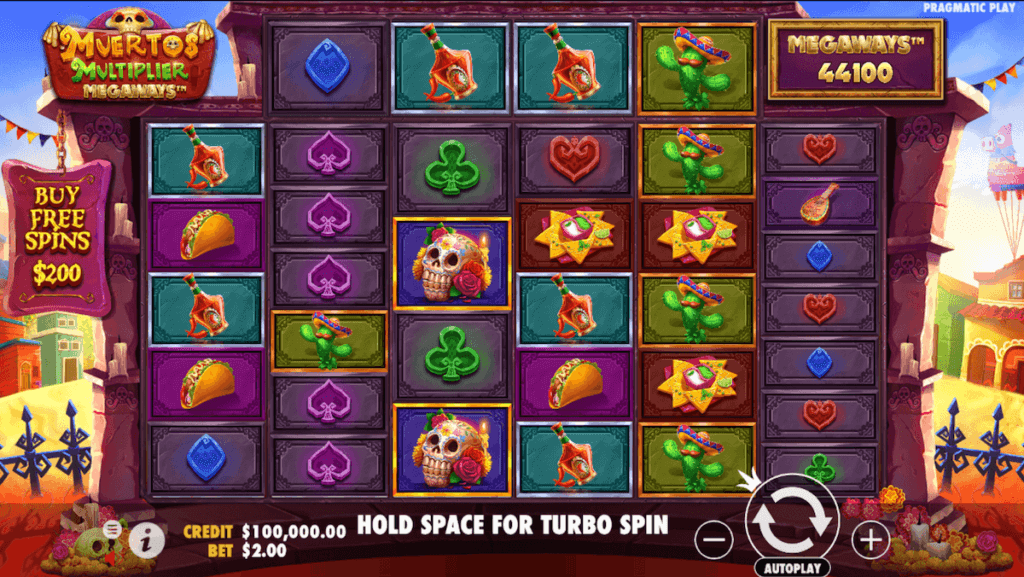 Time to get to the thick of it all. The game features of Muertos Multiplier Megaways are what make this slot so good. Let's explore them right here.
Wilds, re-spins, and other features
We're going to go through each feature one by one, starting with the Wilds feature.
Wilds
The wilds symbols are the three gold skull symbols on your gameboard. Not only are they an exciting part of the game, but they can also offer you x2 or x3 multipliers to enhance your experience.
Tumble feature
The Tumble feature is a feature that allows you to win multiple times from one spin. How? When you win, the tumble symbols disappear and are always replaced with new symbols.
Re-spins
Re-spins or free spins are what most players are constantly looking for. The way to get them in Muertos Multiplier Megaways is to get three hot chilli bonus symbols. The free spins round is triggered, and you can get 5 to 14 free spins.
Multiplier
The multipliers in Muertos Multiplier Megaways are a huge part of the game. You get them through the wild symbols we mentioned above and you should know that any multiplier you may have now can only be used on your current spin. Basically, they are non-transferable. During each round you play, the multiplier you have will multiply each other.
Bonus Buy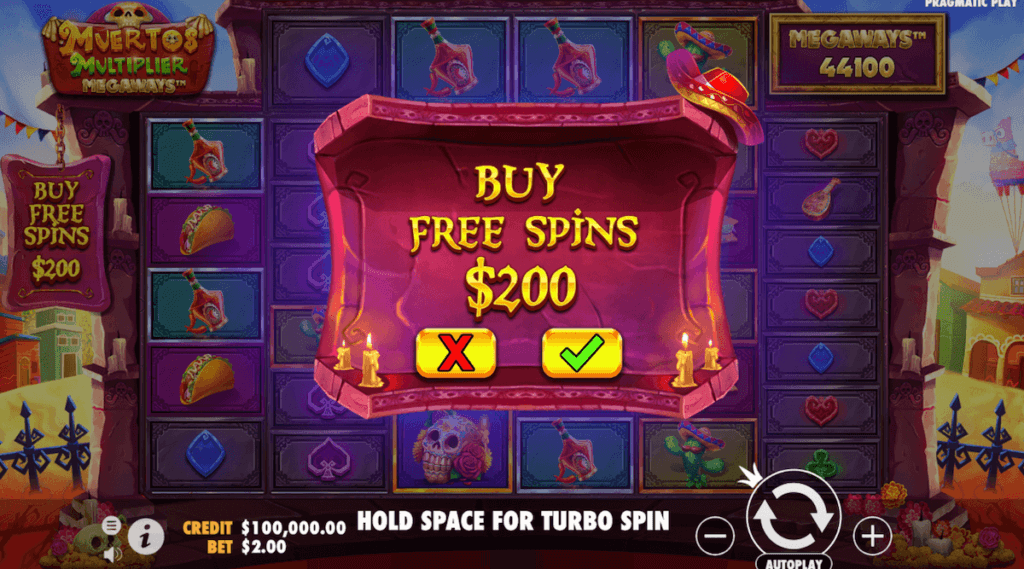 The Bonus Buy feature is also available in Muertos Multiplier Megaways. You access it by buying it for x200 your original bet. The number of free spins you get is not fixed, so you will get a random number of spins when you opt to use the bonus buy feature.
Muertos Multiplier Megaways Graphics & Sound
It's unsurprising to see that Muertos Multiplier Megaways has a specific theme and is flooded with all the best parts of Mexican culture. It was so fun and exciting playing through this game and seeing the colorful streets and festive decorations. The music is no less exciting!
| | |
| --- | --- |
| Graphics | 2D |
| Optimized for Mobile | 👍 |
| Music | Festive |
| Special features | Tumble, Multipliers, Bonus Game |
Muertos Multiplier Megaways is an experience
Both the graphics and sound are part of why Muertos Multiplier Megaways is so good. Both of these features contribute immensely to the overall gameplay experience.
Solutions to Common Issues
If you're experiencing some issues while playing, here are some of the solutions you can implement.
Try reloading your game, and if that doesn't work, refresh your browser and then reload your game.
Resetting your internet connection can be helpful.
If your game freezes during gameplay, all bets you've made will be refunded.
Muertos Multiplier Megaways is just what you need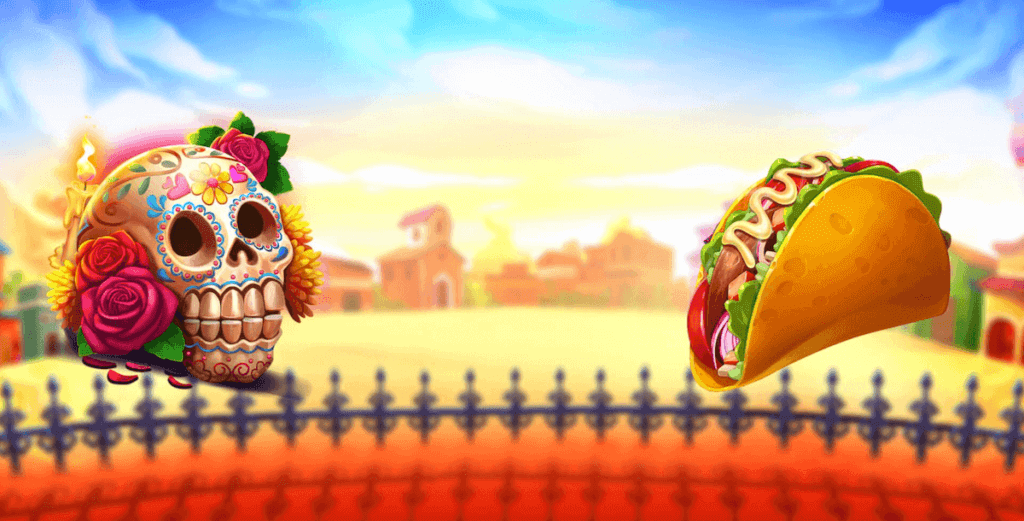 Although Muertos Multiplier Megaways isn't the first Day of the Dead slot that Pragmatic Play has released, we'd still say it's up on our top list. Why? The game features are super engaging, the graphics and sounds contribute so much to the overall experience, and it's so smooth to play.
Yes, the volatility is high, and you need to keep an eye out for that one, but that just adds to the suspense. Make sure you remain responsible while playing, though. If you want to read up on that, head over to our responsible gambling page to learn more.
Similar Ontario Slots to Muertos Multiplier Megaways
FAQs
Can I play Muertos Multiplier Megaways for free?
Yes, you can play Muertos Multiplier Megaways in demo mode if you want to play for free.
What are the best Ontario online Casinos to play at?
If you want to play at the best online casinos in Ontario, we recommend heading over to our casino reviews page which has all the best online casinos!
What's the volatility level of Muertos Multiplier Megaways?
Muertos Multiplier Megaways has a high level of volatility.
How much can I win in Muertos Multiplier Megaways?
Players can win up to a maximum of x10,000 their original bet.
Is the RTP of Muertos Multiplier Megaways a good value in Ontario?
The RTP of Muertos Multiplier Megaways ranges from 96% – 96.03%.
Is the bonus buy feature worth it in Muertos Multiplier Megaways?
If you enjoy playing using this feature, we'd say it's definitely worth it. Keep in mind that you must pay x200 your original bet to trigger it.
Author
Casino Content Writer
Kayleigh is a casino content writer for the Canadian market. Before working on this market, Kayleigh was writing for the general US market and further specialised in the Pennsylvania market. Now, she brings her knowledge and experience to the Ontario market! She's been working as a writing professional for the last decade, and she's dedicated to bringing you practical tips, right at your fingertips.