Classic / The most popular Roulette Variants
Let's start off with the classic roulette variants. You need to at least know about these three variants before you move on to anything else because most online variants are based on the classic ones.
European Roulette
European Roulette has 37 numbered pockets where the ball the croupier drops on the wheel can fall into. The house edge of this variant is below/around 2.7%, and the table has the numbers laid out horizontally. Bets include Outside bets, dozen bets, column bets, low, even, red, black, odd, and high.
American Roulette
American Roulette is known as the roulette variant that's the most different out of all of them. Instead of 37 numbered pockets, American roulette has 38! The double zero '00' is exclusive to this variant!
French Roulette
French Roulette is almost the exact same as European Roulette. The only differences you'll find are the 'la partage' and 'en prison' rules which benefit you as the player if you navigate through them well.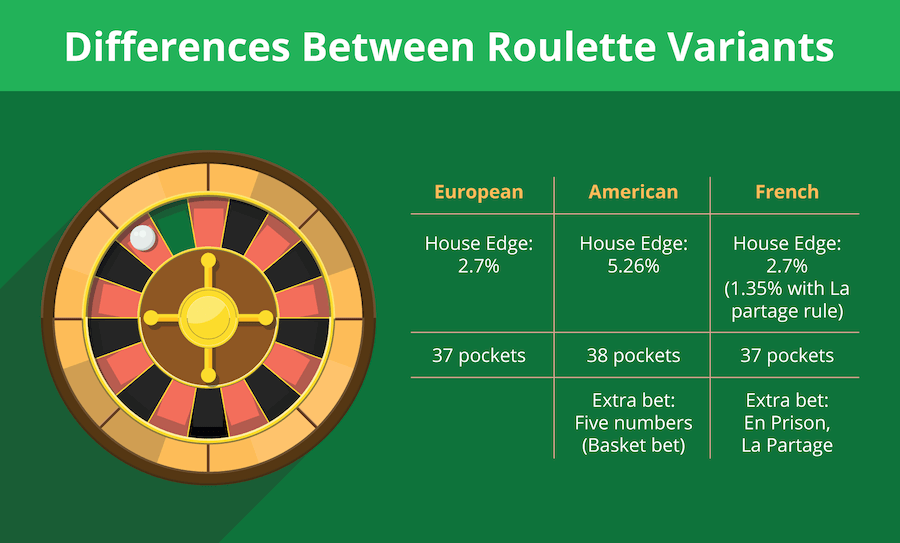 Roulette variants for online players
Online roulette types are where game providers can really shine. These types of roulette games are usually based on the gameplay structure of European, French or American Roulette, but with a creative twist. You'll find a ton of these variants at Ontario online casinos.
1. Live Roulette
As the name suggests, Live Roulette is a type of live casino game. We'd say that this is one of the most popular online variants just because it's a classic game of roulette with all the special features and additions of a live casino game. This digital experience is a fan-favourite, and it's no wonder why. The super high-quality camera shots, the exciting gameplay and player interaction, what more could you want?
2. Mini Roulette
It's everything you love about roulette but in a more compact manner. Although this Playtech game is mini, the rewards aren't! There just as thrilling as any other roulette game. Mini Roulette is known for being more adaptable for mobile devices because of its compact layout.
3. Multi-Wheel Roulette
When you think of Multi-Wheel Roulette, think of multitasking. In this variant, you spin multiple roulette wheels at the same time, meaning you'll be increasing your chances of winning. Keep in mind that the bet you'd make would apply to all the games you're playing at once. This means that multi-wheel roulette would be better suited for high rollers.
4. Double Ball Roulette
Double Ball Roulette is a variant of European roulette that uses two balls instead of just one. When playing this variant, you can get double the usual payout if both balls end up landing in successful pockets.
5. Triple Bonus Spin Roulette
The original Triple Bonus Spin roulette game was created by IGT, and its variant is derived from American roulette. Instead of just two extra zeros, you get three in this game. There's also an extra bonus section that lets you win free spins and massive payouts of over x10,000 if you win.
6. Lightning Roulette
Lightning Roulette is an Evolution game with a twist. It's not just your run-of-the-mill roulette game, it's more than that. Lightning Roulette uses an RNG Lucky Number wins feature that increases your payout if you end up winning. This feature is activated right after your bet expires, and 1-5 lucky numbers are generated to determine the outcome.
7. Roulette Royale
Roulette Royale is a version of European roulette with the added bonus of having a progressive jackpot to your final pot. The jackpot can be won at any point during the game.
8. Astro Roulette
Astro Roulette follows a different table layout. It has 13 sections on the table that represent the 12 astrological signs and one infinity pocket, which replaces the zero that's usually on the table. This means that there are only 12 inside bets you can make in the game.
9. Double Action Roulette
In Double Action Roulette, players are actually offered two winning numbers with every spin of the game. This is because of how the wheel is designed for this variant. There's an outer ring of numbers and an inner ring of numbers.
10. Age of the Gods Roulette
Another Playtech classic, Age of the Gods Roulette is a classic roulette game with the added bonus theme of the Age of the Gods series.
Which Roulette type should you choose?
Choosing a roulette type is all dependent on how new you are to the game and what games are available at the online casinos you are registered with. You need to be aware of the strategies and rules, odds, bets and payouts of your game, as well. Here are some other factors you need to consider when choosing what roulette variant you're going to play.
Roulette variants with the lowest house edge
The lower the house edge, the better it is for you. This means less money is going to the casino and more to you. Consider the following Roulette variants in order if you want to have this advantage on your side.
French Roulette
European Roulette
American Roulette
Roulette variants that payout the most
If you want to skip the process of finding out which roulette variants payout the most, we've done it for you! Here are our top three picks.
French Roulette
European Roulette
Multi-Wheel Roulette
Lightning Roulette
The best variants to try when you're new to casino
If you're a beginner, don't worry, we've got you covered.
European Roulette
French Roulette
Roulette types to play if you're a pro
For more experienced and seasoned players, the options are endless, but you can start with the following.
Live Roulette
Lightning Roulette
Multi-Wheel Roulette.
Roulette variations you should avoid
When it comes to avoiding variants, we'd say avoid any variants that feature a double zero just because of their high volatility nature. This includes American Roulette and any variants based on that.
Your Introduction to Roulette Variants
By exploring different Roulette variants, players will be able to decipher which variant suits their gameplay preferences the most. Along with our other roulette guides, we'd say you're prepared to start playing this exciting game!
Before playing, make sure you read up on responsible gambling to ensure you remain within your budget and learn what you can do to remain having a good time while playing responsibly.
Ready to play?
Frequently Asked Questions
Yes. Roulette games in Ontario are approved and regulated by the AGCO.
You can find Roulette at the top Ontario online casinos. Check out our guides.
Roulette is a game of chance, so no!
Roulette games at legal online casinos in Ontario are audited by third-party testing labs to make sure they are fair and up to standard.
Yes. You can do this by playing in demo mode.
We recommend you try BetMGM, Caesars, or LeoVegas in Ontario.
Author
Casino Content Writer
Kayleigh is a casino content writer for the Canadian market. Before working on this market, Kayleigh was writing for the general US market and further specialised in the Pennsylvania market. Now, she brings her knowledge and experience to the Ontario market! She's been working as a writing professional for the last decade, and she's dedicated to bringing you practical tips, right at your fingertips.